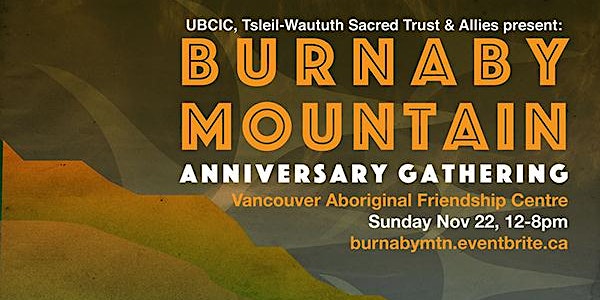 Burnaby Mountain Anniversary Gathering: Reconciliation in Action
When and where
Location
Vancouver Aboriginal Friendship Centre 1607 East Hastings Vancouver, BC V5L1S7 Canada
Refund Policy
Contact the organizer to request a refund.
Description
AFTERNOON PROGRAM
12:00 Opening

12:30pm Coast Salish Protocol - introductory panel: Khelsilem (Squamish), Cecilia Point (Musqueam), Charlene Aleck (Tsleil-Waututh).
1:30pm PANEL: Lessons from Burnaby Mountain - panel and dialogue. Panelists: Ruth Walmsley, Stephen Collis, Harsha Walia, and Kaleb Morrison. Moderated by Brandon Gabriel (Kwantlen).
2:45 Break
3:00 PANEL: Kinder Morgan & Tarsands Opposition - survey of local & global campaigns including upcoming NEB hearings, Tsleil-Waututh legal case against Canada, shareholder action, East/West Indigenous Alliance against tar-sands pipelines, Road to Paris COP21. With Eugene Kung (West Coast Environmental Law), John Konovsky (Tsleil-Waututh), Rueben George (Tsleil-Waututh). Moderator: Carleen Thomas (Tsleil-Waututh).
4:00 PANEL: From the Frontlines - Indigenous Communities Panel reporting from Kwantlen, Lummi, Sto:lo, Squamish and Tsleil-Waututh. Moderator: Chief Bob Chamberlin, VP, UBCIC
5:30 Dinner service
6:15-8:00pm Evening Program with SPEAKERS: Grand Chief Stewart Phillip (UBCIC), Ta'ah Amy George (Tsleil-Waututh), Melina Laboucan-Massimo (Lubicon Cree).
ARTISTS: Children of Takaya (Tsleil-Waututh), Buckman Coe, Adham Shaikh, Ronnie Dean Harris, Corinna Keeling, Rita Wong, and Eileen Kage.
---

Check out the Facebook page for the Gathering.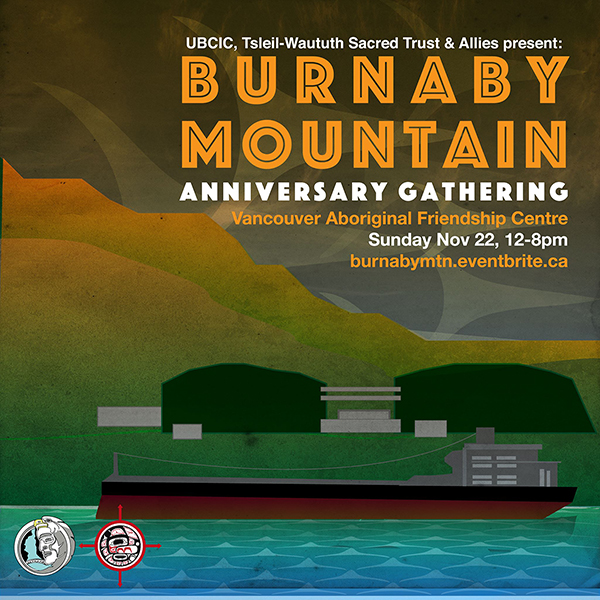 ====

Some of the many things we will do together on Sunday Nov 22...
- Witness Coast Salish culture, artists, and delicious foods prepared for you!
- Acknowledge peoples' hardwork and mobilisation at Burnaby Mountain to defend Unceded lands and waters;
- Following up from last year's closing events, conducted on the mountain in December, provide space for conversation, growth and knowledge through a series of panels, workshops and group activities.
- Share stories from the front-lines as our Indigenous relatives fight Kinder Morgan along the 1100 km route.
- Share and discuss the practice of Coast Salish protocol, with an emphasis on "reconciliation in action."
- Bring together as many as 30 groups fighting Kinder Morgan to help consolidate future coordinated actions

========

ARTISTS, PHOTOGRAPHERS please send in your images or dropbox links to for the multimedia presentation! We welcome jpgs and still images and videos via dropbox or email.

If you would like to volunteer do get in touch with Heidi Martin as we are inviting people for the production, food preparation, and outreach support. Thank you!

///////////////

Some of what we will do together on Sunday Nov 22...

Acknowledge peoples' hardwork and mobilisation at Burnaby Mountain to defend Unceded lands and waters;

Following up from last year's closing events, conducted on the mountain in December, provide space for conversation, growth and knowledge through a series of panels, workshops and group activities.

Share stories of the diverse Indigenous opposition and the front-lines of our many Indigenous relatives fighting KM along the 1100 km route.

Share and discuss the practice of Coast Salish protocol, with an emphasis on "reconciliation in action."

Bring together as many as 30 groups fighting Kinder Morgan to help consolidate future coordinated actions