This online, community-based program will give you the space and skills to write a stellar business plan for the farm of your dreams.
About this event

Business Bootcamp starts January 6, 2022! Live sessions will be held on Thursday evenings (6pm PT, 7pm MT, 8pm CT).

Young Agrarians presents the Business Bootcamp for New Farmers! This online, community-based program will give you the space and skills to write a stellar business plan for the farm of your dreams.
Overview
The Business Bootcamp is an eleven-week program, packed full of content and activities that will guide you through writing your farm business plan. Each week will include pre-recorded videos, a worksheet, and a 2-hour online session. 
The Business Bootcamp will cover everything from writing a mission statement to creating a financial plan to defining a marketing strategy. In this program you will have the opportunity to:
Delve into the parts of a good farm business plan
Gain insights from experts on your farm business
Get to know others in farm start-up
Hear ideas and inspiration from your peers
Set yourself up to access capital
This program is open to all new and aspiring farmers who want to gain the skills and knowledge to write (or rewrite) a business plan for a farm enterprise. The Business Bootcamp is a great place to explore the viability of your farm dream, figure out details for your first growing season, or to investigate adding another enterprise to your current farm. You don't have to own a farm yet, but having at least one full season of farming experience is advised for participants. All production types are welcome!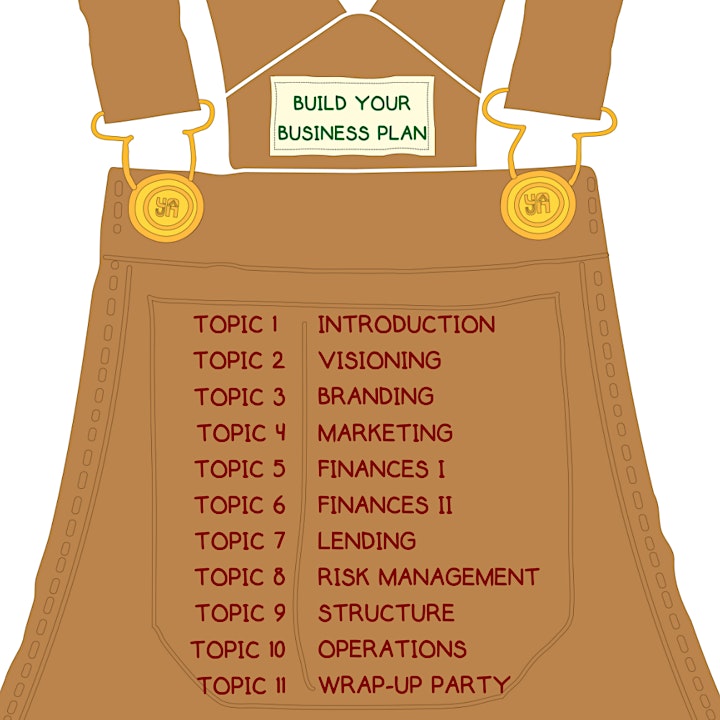 Is the Business Bootcamp for you?
The Business Bootcamp is best suited for folks who have some production experience and little or no farm business planning experience. We recommend having at least one year of hands-on farming experience (on your own farm or someone else's) and more-or-less know what you want to grow and roughly how to grow it. Having a clear business concept will ensure that you get the most out of the program – but you do not need to know anything about business planning.
The Business Bootcamp is geared towards individuals or farm teams who
Are planning on starting up an agricultural operation in the near future; or
Are looking to expand an existing farm or hobby enterprise; or
Want to start a new enterprise on an existing farm
Hear from some past participants of the Bootcamp:
Bountiful Bay Farm & Nursery – Ashley
Pandemic Planting Project – David
Not sure if the Business Bootcamp is right for you? Reach out to Alex at: alex@youngagrarians.org
Format 
"I am grateful for the opportunity to stretch my mind to really begin developing a stronger foundation for this up and coming farm business. It's out of my comfort zone, but somehow having others who are in the same boat as I am has given me more of a spark to push through the hurdles."
The Business Bootcamp is structured to facilitate farmer-to-farmer learning, which means it's different from a standard webinar. Each week participants are expected to watch a pre-recorded video from each speaker and complete a worksheet before attending the online, live session (via Zoom). 
Each speaker video covers the main concepts for their area of expertise. Some videos will focus on various elements of a business plan while others will be a story of how a farmer started their farm business. Each week will have 30–45 minutes of video content.
Each topic will also have a worksheet to complete. These worksheets will help you solidify your farm vision and write your business plan. You can expect to spend 30 minutes to 2 hours (or more) on each worksheet depending on the current state of your business plan and the specifics of your farm enterprise. 
During the live session, you have the opportunity to ask questions of the speakers and to share your completed worksheet with peers in small groups. These sessions are participatory and driven by your needs. They're also a great way to meet other new farmers! Each live session is two hours long. 
The Business Bootcamp will run for 11 consecutive weeks with one topic per week. In winter 2022 we will be running one round of the program starting on January 6th, 2022. Live sessions will happen on Thursday evenings (6pm PT, 7pm MT, 8pm CT).
If you require any accommodations to make this program accessible, don't hesitate to reach out to Alex at alex@youngagrarians.org. 
"This hardly felt like work at all! I have tried to write a biz plan before, but always lost steam because there are so many moving parts that it's overwhelming. Having the deadline of the sessions, the energy and knowledge available from presenters and other participants and the pieces broken into digestible areas REALLY made a huge difference. I couldn't be happier that I took this bootcamp and I feel motivated, inspired and confident about my next steps." 
Speakers
We have carefully selected an exceptional team of course speakers to help you get your farm business off the ground! Learn from these amazing first-generation farmers and business experts. See the full speaker bios on our website.
Requirements
To fully participate in the program, participants should have reliable access to a computer and a stable internet connection (to join Zoom video calls). Please contact Alex (alex@youngagrarians.org) if you need any technical support. 
"I truly appreciated the idea sharing and helpful suggestions of the other participants. It was nice to be in a group of such diverse people with such different backgrounds and experiences and to be able to be seen as someone who was just trying to learn their best way forward like everyone else. What an awesome group of people." 
Cost
We love supporting new and young farmers to grow! To make the Business Bootcamp more affordable we are offering a sliding scale payment, which means that you are able to select how much you pay to participate. The suggested sliding scale cost is $250–$350, which is $25–$35 per session. We base the price range on the cost of running the program (coordination, speaker fees, facilitation, program development, and online infrastructure). When you register you are able to enter any amount as a registration fee. If you'd like to learn more, please go to "What is sliding scale payment? Why do we use it?".
Farm partners/teams that are working on the same business plan can register together. If you have any questions and/or you'd like to arrange a payment plan, please contact Alex at alex@youngagrarians.org
FAQ
Will I have a completed farm business plan at the end of this program?
A farm business plan can take many different shapes and forms. The content and structure of a business plan will change depending on your needs – a business plan will look quite different if you are using it internally for strategic planning than if you're going to take it to a lender to access financing. Since there is no "one size fits all" business plan, the Business Bootcamp is focused more on exploring the various elements of a good business plan specifically related to starting a farm. The worksheets and videos are meant to explain the parts of a business plan and prepare you to write one that suits your particular situation. We also provide several good business plan templates and resources for completing a business plan. 
What are the exact dates and times of the live sessions?
All sessions are held at 6–8 pm Pacific Time, 7–9 pm Mountain Time, 8–10 pm Central Time.
Winter 2022 dates: January 6, January 13, January 20, January 27, February 3, February 10, February 17, February 24, March 3, March 10, March 17
What if I can't (or don't want to) attend the live sessions?
Not a problem. All the live sessions will be recorded so you can always catch up by watching these videos. These recordings will be available only to program participants and only for the duration of the program. That being said, past participants have really enjoyed the live sessions and their farm business has benefited from connecting with the speakers and their peers, so you are encouraged to come when you can!
Will I have access to content after the program is over?
Absolutely! You'll have access to the program website, which has all the pre-recorded videos, resources, and worksheets, after the Business Bootcamp is done. 
"The Business Bootcamp has definitely increased my business knowledge and awareness. It has increased my networking potential with other new farmers. It has sparked my imagination to move forward and create my dream farm. A business that I can love, be proud of, and sustain both my family and community with."
Questions? Email Alex at alex@youngagrarians.org
You can also check out more business resources for new farmers on our Farm Business Support page.
The Business Bootcamp is based in ᐊᒥᐢᑿᒌᐚᐢᑲᐦᐃᑲᐣ (Amiskwacîwâskahikan), which is in Treaty 6/Métis Territory. This land is the meeting place of the Cree, Blackfoot, Métis, Nakota Sioux, Iroquois, Dene, Ojibway/Saulteaux/Anishinaabe, Inuit, and many others. As we live and work in the context of, and in response to, a colonial land title system, it is important to acknowledge the historical and ongoing impact of agriculture on Indigenous lands and food systems.  As Métis writer Chelsea Vowel says, "I think rural/Indigenous alliances have the potential to be the most transformative relationships in this country, even as they remain the least likely to occur." In this context, we believe that it is our collective responsibility to position reconciliation, ecology and land stewardship at the forefront if we are to learn to be in relationship with the land.
"The first step in writing a business plan, which is really a plan for the tangible love you want to manifest in the world, is to imagine widely what is possible. We invite you to light a candle, call upon your ancestors, close your eyes, and dream into your biggest visions."
– Leah Penniman from Farming While Black
Sponsors
Thank you to Rural eHUB and AFSC for their support of the Business Bootcamp for New Farmers!