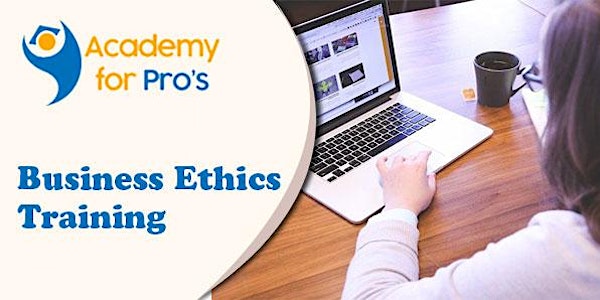 Business Ethics 1 Day Training in Logan City
Our classroom training provides you the opportunity to interact with instructors and benefit from face-to-face instruction.
When and where
Location
The venue will be announced soon The venue will be announced soon Logan City, QLD 4114 Australia
Refund Policy
Refunds up to 7 days before event
About this event
Course Overview:
A company's ethics will determine its reputation. Good business ethics are essential for the long-term success of an organization. Implementing an ethical program will foster a successful company culture and increase profitability. Developing a Business Ethics program takes time and effort, but doing so will do more than improve business, it will change lives.
A company's ethics will have an influence on all levels of business. It will influence all who interact with the company including customers, employees, suppliers, competitors, etc. All of these groups will have an effect on the way a company's ethics are developed. It is a two-way street; the influence goes both ways, which makes understanding ethics a very important part of doing business today. Ethics is very important, as news can now spread faster and farther than ever before.
Target Audience:
Anybody who is interested in learning Business Ethics
Learning Objectives:
By successfully completing this course, students will be able to:
● Define ethics in business and why it is important.
● Describe what ethics means in the workplace.
● Define corporate responsibility.
● Define corporate compliance.
● Describe social responsibility.
● Describe the impact of ethics in the business.
● Compare differences in ethics in the international communities.
● Describe consumer rights
Course Materials:
Students will receive a course manual with presentation slides and reference materials.
Examination:
There is no exam for this course.
Technical Requirements:
For eBooks:
Internet for downloading the eBook
Laptop, tablet, Smartphone, eReader (No Kindle)
Adobe DRM supported software (e.g. Digital Editions, Bluefire Reader)
eBook download and activation instructions
Agenda:
Module One: What is Ethics?
● What is Business Ethics
● 10 Benefits of Managing Ethics
● Case Study
Module Two: Implementing Ethics in the Workplace
● Benefits
● Guidelines for Managing Ethics in the Workplace
● Roles and Responsibilities
Module Three: Employer / Employee Rights
● Privacy Policies
● Harassment Issues
● Technology
Module Four: Business and Social Responsibilities
● Identifying Types of Responsibilities
● Case Study
● Handling Conflicting Social and Business Responsibilities
● Case Study
Module Five: Ethical Decisions
● The Basics
● Balancing Personal and Organizational Ethics
● Common Dilemmas
● Making Ethical Decisions
● Overcoming Obstacles
Module Six: Whistle Blowing
● Criteria and Risk
● The Process
● When You Should "Blow the Whistle"
Module Seven: Managerial Ethics
● Ethical Management
● Identifying the Characteristics
● Ensuring Ethical Behavior
Module Eight: Unethical Behavior
● Recognize and Identify
● Preventing
● Addressing
● Interventions
Module Nine: Ethics in Business (I)
● Organization Basics
● Addressing the Needs
● Ethical Principles
ModuleTen: Ethics in Business (II)
● Ethical Safeguards
● Developing a Code of Ethics
● Performing an Internal Ethics Audit
● Upholding the Ethics Program
Module Eleven: Wrapping Up
● Words from the Wise
● Review of Parking Lot
● Lessons Learned
● Completion of Action Plans and Evaluations