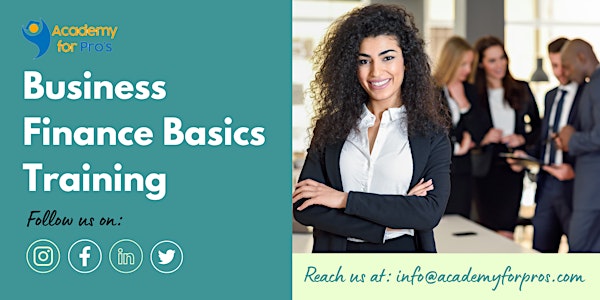 Multiple dates
Business Finance Basics 1 Day Training in Toronto
Our classroom training provides you the opportunity to interact with instructors and benefit from face-to-face instruction.
Date and time
February 17 · 9am - December 21 · 5pm EST
Location
For venue details reach us at: info@academyforpros.com +1 469 666 9332 Toronto, ON M5G 2N8 Canada
Refund Policy
Refunds up to 7 days before event
About this event
Certificate: Course Completion Certificate Language: English Duration: 1 Day Credits: 8
Course Delivery: Classroom/ Virtual Live
Course Overview:
Through this course, you will examine financial statements—including the balance sheet, income statement, cash flow statement, and statement of stockholders' equity—as guides to fiscal health. You will also identify what you want to gain from a budget and describe the steps of budgeting to meet these goals. Finance and Budgeting Essentials for Business Professionals grounds you in the functions and tools of finance.
Course Topics:
Lesson 1: Reviewing Financial Basics
Topic A: Identify the Benefits of Finance
Topic B: Describe Financial Statements
Lesson 2: Interpreting Balance Sheets
Topic A: Identify Elements of Balance Sheets
Topic B: Analyze a Balance Sheet
Lesson 3: Interpreting Income Statements
Topic A: Identify Elements of Income Statements
Topic B: Analyze an Income Statement
Lesson 4: Interpreting Other Financial Statements
Topic A: Read Cash Flow Statements
Topic B: Read Statements of Stockholders' Equity
Topic C: Read Notes to Financial Statements
Topic D: Identify Elements of Financial Statements for Non-Profits
Lesson 5: Planning a Budgeting Approach
Topic A: Describe Budgeting Principles
Topic B: Choose What and How to Budget
Lesson 6: Utilizing Budgets
Topic A: Prepare an Operating Budget
Topic B: Prepare an Activity-Based Budget
Topic C: Monitor a Budget
Course Feature:
You Will Learn To:
Describe the importance and major elements of financial statements.
Use balance sheets to determine the assets a company has at its disposal.
Interpret income statements to identify corporate earnings, expenses, and profitability.
Certification:
Once after the training you receive course completion certificate from Mangates
Who can Attend?
All business professionals who want to learn more about business finance.
Note:
However, catering to the demands of busy professionals, our virtual training programs are as effective as face-to-face learning. Reach us at info@academyforpros.com for dates and details of Instructor Led Live Virtual Sessions.
If you would like to get this course customized and delivered exclusively for your group, we have an On-Site Training Option you can reach us at info@academyforpros.com for more details about on-site or corporate training.
Offers:
Groups of 3 people 10% Discount
Groups of 5 people 15% Discount
Groups of 10 people 20% Discount
About the organizer
We deliver training solutions to Corporate, Government Agencies, Public sectors, Multinational organizations and Private Individuals. Our Primary focus is to train in a wide range of areas from IT Technical, Personal Development, Human Resources and Management Courses to Project, Program and IT Service Management.
We have most experienced trainers in the Industry. Our Trainers are highly skilled in their subject areas and are uniquely positioned to provide participants with deep industry experience. They are motivated to transfer knowledge through practical support post and pre-training to provide participants with additional support outside the classroom.