Description
Business Planning 101 (Training):
3- DAY SATURDAY SERIES
RSVP:
First-come, first served, group max is 15 participants.
TRAINING COST: Complimentary thanks to Starter Company+ Program
LUNCH BREAK: 30 mins provided
The intent of this 3-DAY Training Program is to walk you through Business Model Canvas to map out your concept, engage in customer discovery. You will also receive training to help you write your business plan and to equip or refresh your business foundation along the way. Jot down ideas for each section of your business plan and ask questions of the Trainer as you go. You will be given a lot of tools and resources to work through. Between each weekly workshop, you can work with someone on our Small Business Enterprise Centre Advisor team to complete the sections that need a little extra guidance.
---
Starter Company+ Training Plan:
This 3-DAY Training Program is required for all 'Main Street' or Agricultural type businesses wishing to secure a $5000 Starter Company+ grant to start, buy or grow a company in Woodstock-Oxford County.
---
Saturday, January 6th, 2018 from 9:00 am – 4:00 pm Presented by Carol Ann Smith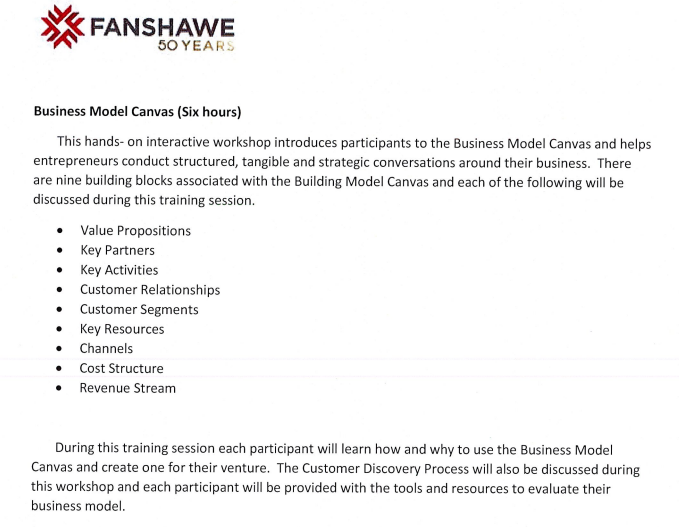 ---
Saturday, January 13th, 2018 from 9:00 am – 4:00 pm Presented by BizLaunch- Andrew Patricio
Now that you have completed a Business Model Canvas and the Canada Business Ontario Free Market Research, you will bring to class your framework and take a closer look at your business and learn how to develop a business plan. You will also learn what it takes to become a Successful Small Business Owner.
1. Understanding each section of your written Business Plan
Business Description
Products & Services
Competitor SWOT
Sales & Marketing
Operations
Management Team
Risk Management
Financial Summary Actual & Projected
Executive Summary
2. Develop a Marketing Plan
3. Low cost marketing tools you can use to market your business
4. Importance of Networking effectively, in-person and online
---
Satuday, January 20th, 2018 from 9:00 am – 4:00 pm Presented by Andrew Patricio
Building on the lessons of the previous two weeks, you will begin to tie your written plans together with your financial plans. Ensuring projected revenues and costs are reflective of the plans you're setting out to achieve. You will dive deeper into understanding your business financials, including actual investments to-date, pricing and costing strategies, cash flow projections, tracking ROI, the importance of good record-keeping and more.
1. How to Price and Cost your products and services
2. How to improve your Cash Flow
3. Understanding Tax, GST and PST

4. Develop a Cash Flow Forecast

5. Understanding Financial Statements
6. How to analyze and interpret the Income Statement
7. Understanding the Balance Sheet

8. Develop Systems to Organize & Manage Your Business
9. Time Management
10. Operational Processes to protect you and your employees
11. People Management
12. Business Legal
---