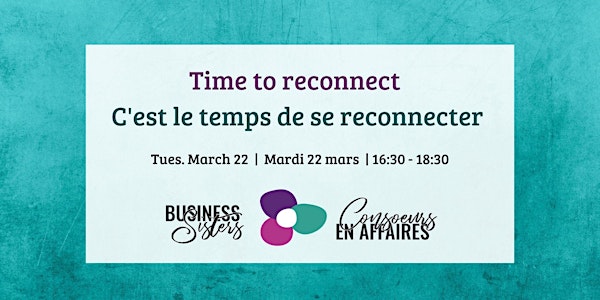 Business Sisters / Consoeurs en Affaires Reconnect
Meetup for women business owners / Réunion pour femmes propriétaires d'entreprises
When and where
Location
Island Park Community Centre (Sandfield Room) 102 Derby Street West Alexandria, ON K0C 1A0 Canada
Refund Policy
Refunds up to 7 days before event
Eventbrite's fee is nonrefundable.
About this event
Let's pave the way for recovery, meeting in person and sharing ideas on how we can move forward together.
This crisis may not be over, but somehow it feels like it's time we reconnect. To talk about how we re-think business and re-launch for a more sustainable future.
This will be a "low-key" networking event with up to 20 participants, in a room that can hold 4 times that much. Safety protocols will be in place. We will meet in a large circle, take off our masks and share.
Come meet with other women entrepreneurs, and let's talk about doing business differently.
Tickets include non-alcoholic drinks and healthy boxed snacks.
As of March 22 Public Health guidelines no longer require proof of vaccination, and mask mandates will be lifted.
However we still urge caution.
We will ensure that seating is distanced and ask that everyone respect personal choice regarding masks. Thank you for your understanding.
//
Ouvrons la voie vers la relance, en reconnectant en présentiel, et en partageant des idées pour nous avancer ensemble.
La crise n'est peut-être pas terminée, mais il est temps de nous reconnecter. Pour parler de la façon dont nous repensons les affaires et nous relançons pour un avenir plus durable.
Il s'agira d'un événement de réseautage "low-key," réunissant jusqu'à 20 participantes, dans une salle pouvant en contenir quatre fois plus. Les protocoles de sécurité seront en place. Nous nous réunirons en un grand cercle, et nous enlèverons nos masques pour partager et reconnecter.
Venez rencontrer d'autres femmes entrepreneures, et parlons de comment faire des affaires différemment.
Les billets comprennent des boissons non alcoolisées et des boîtes de collations saines.
Le 22 mars, les directives de la santé publique n'exigent plus de preuve de vaccination, et le mandat pour le port de masques ne sera plus en vigueur.
Cependant, nous recommandons toujours la prudence.
Nous veillerons à ce que les places assises soient éloignées et nous demandons à chacune de respecter le choix personnel concernant les masques. Merci de votre compréhension.