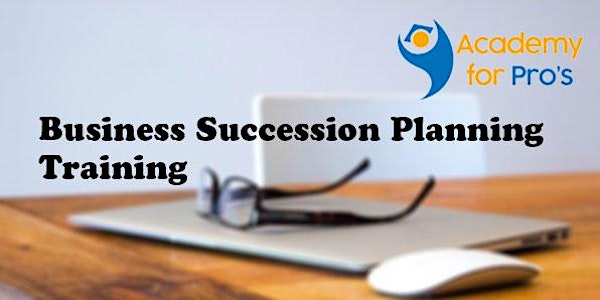 Business Succession Planning Training in Singapore
Our classroom training provides you the opportunity to interact with instructors and benefit from face-to-face instruction.
When and where
Location
For venue details reach us at: info@academyforpros.com Singapore, Singapore 068896 Singapore
Refund Policy
Refunds up to 7 days before event
About this event
Certificate: Course Completion Certificate Language: English
Duration: 1 Day Credits: 8
Course Delivery: Classroom/ Virtual Live/ On-Site
Course Overview:
Business Succession planning is all about being prepared. The loss of valuable leadership can cripple even the strongest of companies. Succession planning is an essential component to the survival and growth of any business. Whether it is grooming employees to become leaders, or preparing for an employee's retirement your participants will identify common obstacles and how to overcome them.
Our Business Succession Planning workshop will show you the differences between succession planning and mere replacement planning. How you prepare people to take on leadership responsibilities is just as important as hiring the right person for the job. Every company should have a form of succession planning in its portfolio.
Target Audience:
Anybody who is interested in learning Business Succession Planning
Learning Objectives:
In this course participants will:
Learn the importance of succession planning
Understand the process of succession planning
Recognise the importance of mentoring as a component of your plan
Learn to set goals using a SWOT analysis
Draft a plan, assign responsibilities and establish monitoring systems
Understand the importance of change management
Learn to anticipate obstacles
Know how to re-evaluate goals and focus on progress
Recognise when success has been achieved
Prerequisites:
None
Course Materials:
Students will receive a course manual with presentation slides and reference materials.
Technical Requirements:
For eBooks:
Internet for downloading the eBook
Laptop, tablet, Smartphone, eReader (No Kindle)
Adobe DRM supported software (e.g. Digital Editions, Bluefire Reader)
eBook download and activation instructions
Agenda:
Module One: Succession Planning Vs. Replacement Planning
What is Business Succession Planning?
What Is Replacement Planning?
Differences Between
Deciding What You Need
Module Two: Preparing for the Planning Process
How to Set Parameters for the Planning Process
Should You Establish a Committee?
How to Gather Operational Data
Module Three: Initiating Process
Develop a Mission Statement
Develop a Vision Statement
Choosing to Be a Mentor
Module Four: The SWOT Analysis
Identifying Strengths
Identifying Weaknesses
Identifying Opportunities
Identifying Threats
Module Five: Developing the Succession Plan
Prioritize What the Succession Plan Will Address
Set Goals and Objectives
Develop a Strategy for Achieving Goals
Draft the Plan
Module Six: Executing the Plan
Assign Responsibility and Authority
Establish a Monitoring System
Identifying Paths
Choosing Your Final Approach
Module Seven: Gaining Support
Gathering Data
Addressing Concerns and Issues
Evaluating and Adapting
Module Eight: Managing the Change
Developing a Change Management Plan
Developing a Communication Plan
Implementing the Plans
Providing Constructive Criticism
Encouraging Growth and Development
Module Nine: Overcoming Roadblocks
Common Obstacles
Re-Evaluating Goals
Focusing on Progress
Module Ten: Reaching the End
How to Know When You've Achieved Success
Transitioning
Wrapping it All Up
Module Eleven: Wrapping Up
Words from the Wise
Review of Parking Lot
Lessons Learned
Completion of Action Plans and Evaluations
Note:
However, catering to the demands of busy professionals, our virtual training programs are as effective as face-to-face learning. Reach us at info@academyforpros.com for dates and details of Instructor Led Live Virtual Session.
If you would like to get this course customized and delivered exclusively for your group, we have an On-Site Training Option you can reach us at info@academyforpros.com for more details about on-site or corporate training.