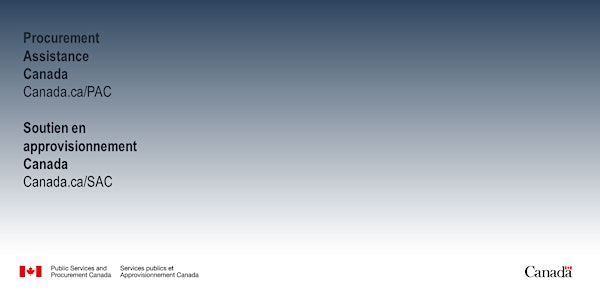 Business to Indigenous Business Networking
The Business to Indigenous Business networking event, hosted by Public Service and Procurement Canada
By Procurement Assistance Canada Pacific
Date and time
Wed, Apr 19, 2023 10:00 AM - 12:00 PM PDT
Location
Vancouver Convention Centre East Building 1055 Canada Place Vancouver, BC V6C 0C3 Canada
About this event
The Business to Indigenous Business networking event, hosted by Public Services and Procurement Canada, will offer Canadian marine industry representatives an opportunity to learn about local indigenous suppliers and establish relationships for future collaboration and contracting opportunities.
This event will be hosted in English only. For French sessions or for more information, contact Julia McDonald - julia.mcdonald@tpsgc-pwgsc.gc.ca
Our privacy notice:
You agree to allow Public Services and Procurement Canada to:
Collect and use the information you provide to contact you.
Temporarily store your questionnaire response on Eventbrite, a third-party online questionnaire service.
Important: Registering for this event via the Eventbrite platform requires a user profile. Creating a user profile is a process managed entirely by Eventbrite and separately from Public Services and Procurement Canada.