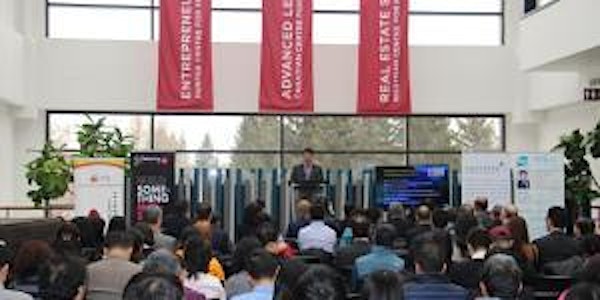 Business Valuation 企业估值及财务预算 - 2018 Western Canada Innovation & Entrepreneurship Roadshow Event
When and where
Location
Silver Springs Golf & Country Club 1600 Varsity Estates Drive Northwest Calgary, AB T3B 2W9 Canada
Refund Policy
Contact the organizer to request a refund.
Description
About the Event:
The business valuation workshop is one of the series events of 2018 CCCA Innovation & Entrepreneuship Roadshow.
Business valuation is one of the most important concepts in finance. Every business owner should know something about valuation. This event will cover the topic of pre-revenue valuation and post-revenue valaution. It offers perspective to early stage ventures as well as established business owners/
About the Speaker:
Jordan Martel is the senior vice president of Sequeira Partners Inc. Jordan has over 12 years of client advisory experience in corporate valuations, financial opinions, fair value for IFRS and US GAAP, tax valuations, estate planning, buy/sell arrangements, corporate value disputes, and financial/corporate strategy and technology consulting.
Jordan's experience in Canada and the United States, coupled with his broad knowledge across many industries, provides a trusted, credible, and independent opinion on complex valuation issues.
Prior to joining Sequeira Partners, Jordan sourced, managed, and executed valuation assignments for a Big Four accounting firm in Calgary, Alberta. He also delivered financial opinions and valuations with a publicly-traded boutique investment bank in Dallas, Texas.
Qualifications
Chartered Business Valuator
Senior Accredited Member of the American Society of Appraisers in Business Valuation
Masters of Business Administration, McCombs School of Business at the University of Texas at Austin
Bachelors of Business Administration, McCombs School of Business at the University of Texas at Austin
Ticketing:
Active CCCA members: $15 (limit: 1). Please contact us at info@ccca88.ca to confirm your membership status and acquire your ticket. Quantity limited, first come first serve. Welcome joining CCCA to receive member benefits.
Non CCCA member: $25, ticket purchase via Eventbrite, or pay via e-Transfer®
---
企业估值在整个投资过程中是比较关键的一环。是投资的起点,直接关系到投资的收益。 也是初创企业在创业过程中需要了解的一个知识。
6月23日下午1:30-4:30, 商会路演活动企业估值讲座在Silver Spring Golf & Country Club举行。
1600 Varsity Estates Dr, Calgary AB T3B 2W9
欢迎各位光临。主讲人Jordan Martel, CBV. Senior VP of Sequeira Partners Inc.
Jordan Martel, 是特许商业评估师。 具有15年商业运营和投资经验。曾在Deloitte Canada、Houlihan Lokey、Credera和Hitachi Consulting担任商业顾问。在金融建模、尽职调查、财务分析、商业评估等领域颇有建树。
Jordan 获得美国德州McCombs 商学院的MBA. 他也同时是美国评估师协会 的商业评估高级认证会员
这次聚会也是一次很好的商务交流机会。 我们也同时邀请本地商界人士参加。
票务信息:
加中商会有效会员: $15 (限1张)。请与我们联系(info@ccca88.ca) 确定会员资格获取门票。 数量有限,先到先得。
非会员N: $25。购票链接,或通过e-Transfer®付款,避免手续费