Description
We feel very passionate that YOU can and should launch, grow and scale successful businesses. We're fully committed to offering not only inspiration, but also practical and actionable advice that you may not find at other conferences that may leave you inspired, but without a plan of action.
The event is designed to empowering and connecting social entrepreneurs, side hustlers and business leaders.

Get the unique opportunity to learn and interact from an exceptional line up of speakers who are changing the world. Get a tailored list of grants, expert advice, connections and more... Lead yourself to success.


Your ticket includes 1 hardcover copy of Social Entrepreneurship: 15 keys to success by our keynote Mr. Thione Niang and private access to book signing. ! LIMITED SEATS AVAILABLE !
*** Topics ***
Daniel Guaragna "Build a sustainable and profitable business from the ground up"
Karlyn Percil "Overcome your mental blocks"
Dr. Jawad Khoris "Emotional Intelligence in Business"
Ali Soumah "Learn about funding opportunities in Canada"
Thione Niang "Social entrepreneurship: 15 keys to success"
Join us, learn, practice and enjoy delicious african/caribbean buffet. EVENT OPEN TO ALL GENDERS!
*** MEET THE SPEAKERS ***
THIONE NIANG: Social entrepreneur, political strategist, youth advocate, and author, Thione Niang, was born in a modest family of 28 children in Senegal. The visionary leader immigrated to the USA in 2000 with only 20 dollars and worked his way through the hardships while getting involved in his new community. His efforts led him to participate as a community organizer in the historic 2008 Presidential elections supporting Democratic candidate Barack Obama and becoming National Co-Chair of Gen44 for the 2012 reelection Campaign. In October 2015, he was appointed by President Obama and the Energy Secretary as Ambassador at the US Ministry of Energy representing minorities in energy. He now leads three structurally different, but substantially, similar international organizations; Give1Project, Akon Lighting Africa and Solektra International.
DANIEL GUARAGNA: Daniel Guaragna is the founder of REDA Sales University. He is a Global Sales Trainer & Keynote Speaker with over 10 years of sales experience in both the B2C and B2B sales market. Daniel specializes in driving revenues through a new evolved sales process, placing himself in the top 1% of income earners in North America and generated over $20M worth of business with over 300 corporate clients. He's now prepared to share a unique, relevant sales style and system across the globe.
KARLYN PERCIL: Karlyn is the CEO of KDPM Consulting Group INC, & Founder of SisterTalk Group (as seen on Oprah's lifeclass) and a Mindset Mentor who holds a Certificate in Neuroscience Coaching. She is currently completing a Certificate in Positive Psychology and has a mandate to increase access to mentorship and sponsorship for 1 Million women of color by 2025. Karlyn also leads the conversation around success, leadership, mentorship and workplace success & wellness, and has been featured four times on the Oprah Winfrey Network, CNN Money, Huffington Post, TV One, CBC, CTV and The Toronto Star. Audiences can regularly see Karlyn give leadership & life advice on the internationally syndicated Cityline - North America's longest-running daytime show for women. https://www.cityline.tv/tag/karlyn-percil/
Dr. JAWAD KHORIS: Keynote speaker and executive coach, Dr Khoris has been a neurologist and a neurogenetician for 25 years. He held several leadership roles in hospitals and clinics, both private and public. Dr Khoris's concern for the well being of his patients, along with his knowledge and expertise in behavioral neurology and neurosciences, have led him to develop powerful methods and tools that enable behavioral changes while sublimating the creativity and leadership of individuals. He is the pioneer of a brand new model of leadership training whose effects have been displayed in workshops around the world from New York to Paris. He is currently conjointly developing a project with A.S BUSINESS CENTER INC. https://www.jkh-consulting.com
*** NEED CHILDCARE TO ATTEND THIS EVENT? ***
You may be eligible for FREE childcare through our partner TAAB Community Care - conditions apply. Send an email at INFO@TAABCOMMUNITY.ORG
*** Let's get social ***
Join the conversion on Instagram, Facebook, Twitter and use the #businesswithimpact #imasmartwoman
*** EVENT SPONSORS ***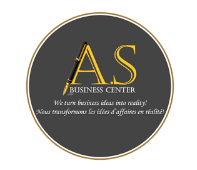 A.S BUSINESS CENTER INC. is a company of 15 employees and consultants who believe in working hard for the entrepreneurship dream. All of our success is because of our team. Nothing can be done without them. Even with the best idea in the world you need people who believe in it first, understand it without seeing it and then help you to implement, improve and innovate it. The company has helped many entrepreneurs start their own businesses or grow their existing businesses by receiving funding.
Most of our entrepreneurs have become successful and be more profitable in their day-to-day activities. So far, A.S Business Center Inc. has attained a total of $7M in loans and grants to assist entrepreneurs.
For more info visit: https://asbusinesscenter.com/home/

*** MEDIA PARTNERS ***