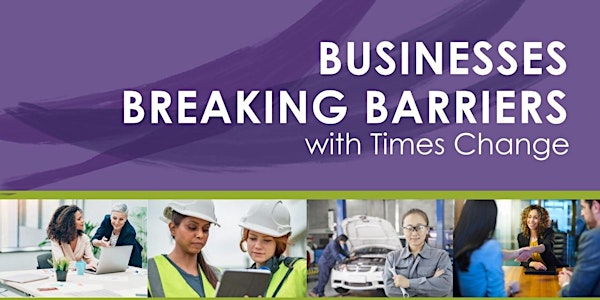 Multiple dates
Businesses Breaking Barriers
Professionals, leaders, HR & business owners get together to share experiences, challenges, solutions & success stories on leading teams.
By Times Change Women's Employment Service
When and where
Date and time
Tue, Sep 13, 2022 6:30 AM - Tue, May 23, 2023 7:30 AM PDT
About this event
Join our free online mastermind conversation held every week to share your experiences, challenges, solutions and success stories implementing development, belonging and inclusion at your organization.
Who is this for?
This ongoing opportunity is open to all business owners and leaders, Human Resources professionals, and any organizations or individuals interested in creating diverse and inclusive workplaces.
What to Expect:
Learn from others and share your solutions for making women and other underrepresented groups feel welcome and successful in the workplace.
Why DEI?
47% of job-seekers actively seek employers with a proven commitment to diversity and inclusion.
86% of your potential female employees are looking for a clearly articulated diversity and inclusion strategy from potential employers.
83% of new millennial hires are more likely to be engaged in their work if they see that the company is diverse and inclusive
Topics
Together, we will discuss and answer the following burning questions:
• How do employees feel about inclusion initiatives?
• DEI initiatives that work and those that don't.
• Secrets of motivating employees.
• How has being inclusive in your recruitment efforts been beneficial for your organization?
• Have you tried implementing employee resource groups (groups organized by underrepresented employees) and how have they helped your staff?
• Does your organization have sponsorship programs for women leaders?
• At the time of quiet resignation, does your company do loud retention?
How to increase performance metrics through increasing the sense of belonging among employees, by...
- Inclusive leadership
- Mental health supports at a workplace
- Psychological Safety
- Building confidence in your employees
- Recruitment and hiring practices
- Developing and retainingemployees
Bonus - Some sessions will include guest speakers.
We are in this together - bring your questions and answers for others.
Meet your facilitator:
Larysa Grant is a Breaking Barriers Program Coordinator at Times Change Women's Employment Service. She brings in more than 20 years of experience in human resources, recruitment, training and development. Larysa is a certified coach (ACC) with degrees in education, psychology and human resources management.
About the presenter:
These DE&I Mastermind conversations are presented by Times Change Women's Employment Service, a non-profit charitable organization that had supported women for almost 50 years. Our new Breaking Barrier program supports businesses and their employees with various diversity, equity and inclusion initiatives for free.

About the organizer
Times Change is a non-profit community agency offering career and educational counselling services and computer workshops for women of all ages,  free of charge. For more information about our services, go to www.timeschange.org