Description
MUCH2CELEBRATE is proud to be hosting our 1st World Cancer Day event at the beautiful Universal Eventspace in Vaughan!
In support of the cancer community across the GTA, we invite you to join us for a fun afternoon of mixing & mingling, conversations & cocktails, and joy & laughter as we connect and celebrate the voices of people affected by cancer. Whatever type of cancer, whatever stage you are at (fighter and/or survivor) or whether you are family/friends/cargiver (co-survivors) of someone facing cancer, this event is a celebration of life and it was designed for YOU!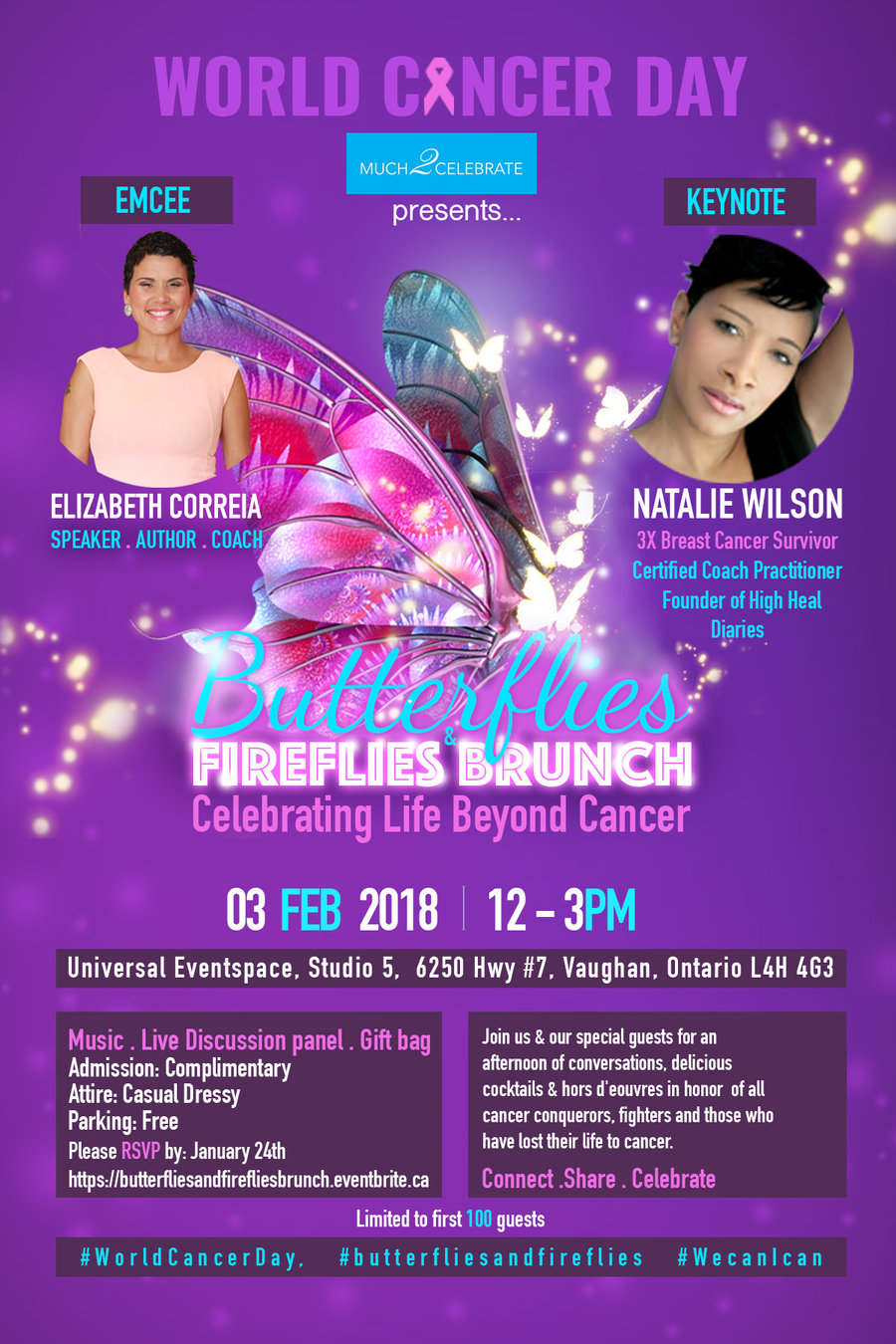 WHAT TO EXPECT
* Get inspirational messages from our keynote speaker who is also a 3x breast cancer survivor and our emcee who is a co-survivor that lost her grandmother to stomach cancer.
* Hear a variety of perspectives on living beyond cancer during an engaging panel discussion.
* Receive support, encouragement and inspiration from the personal stories of other survivors ("Butterflies" & "Fireflies") who's lives have been changed by cancer, and can impart wisdom gleaned from having gone through this difficult illness.
* Opportunity to gather in a non-medical atmosphere, set aside the worries (at least for 3 hours) following a cancer diagnosis, focus on SELF and enjoy a moment of glee surrounded by others in similar situations.
* Enjoy sumptuous hors d'eouvres , cocktails and the 5 star experience of Universal-by PeterandPauls.com.
* Entertainment
* And much more.

PLEASE RSVP HERE OR TO MUCH2CELEBRATE@OUTLOOK.COM
FAQs
Is the Event free of charge to attend?
Absolutely. The brunch is free and open to Cancer survivors, fighters, their family/friends (co-survivors), caregivers and health professionals supporting cancer patients. However, there is a limit of 2 tickets per family (survivor + guest)
What are my transportation/parking options for getting to and from the event?
Free parking available at the venue
Is there a Dress Code
Casual Dressy Attire
How can I contact the organizer with any questions?
Any questions can be emailed to much2celebrate@outlook.com