Sales Have Ended
Ticket sales have ended
Thank you for purchasing a ticket to the Buy Social Canada Summit, we look forward to engaging with you on November 27th & 28th!
Event Information
Location
Crowne Plaza Gatineau-Ottawa
2 Rue Montcalm
(Ballroom)
Gatineau, QC J8X 4B4
Canada
Refund Policy
Refunds up to 30 days before event
Sales Have Ended
Ticket sales have ended
Thank you for purchasing a ticket to the Buy Social Canada Summit, we look forward to engaging with you on November 27th & 28th!
Description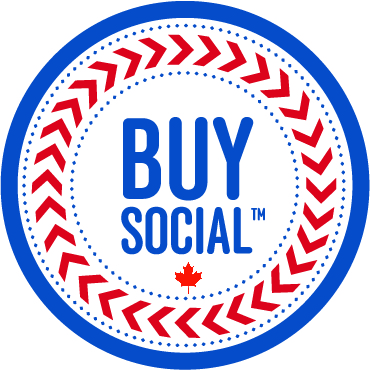 Buy Social Canada Summit: Exploring the Future of Social Procurement / Sommet Buy Social Canada L'exploration du futur de l'approvisionnement social
November 27th & 28th in Gatineau, QC. / Le 27 et 28 novembre à Gatineau, Québec
Social Procurement generates a social value from existing purchasing
Social procurement occurs in many formats and models, but most commonly it is achieved through adding a social value component to purchasing and procurement criteria and including a community benefit agreement within major development and infrastructure investments.
Very often social procurement is accomplished through ensuring social enterprises are embedded into existing supply chains. Social enterprises are businesses that prioritize a social, environmental or cultural impact, and the majority of profits are reinvested in the social goals.
Social procurement doesn't negate the need for competitive pricing, quality of service and goods, and environmental issues; it merely adds another value lens into the purchasing consideration.
Social procurement is emerging as a tool for government, private sector and non-profits to leverage their existing purchasing into an added value outcome. They are moving their purchasing from being a simple business transaction to being a means to contribute to building a healthy community.
With this increased 'demand' for goods and services with a social value consideration, social enterprises are expanding and increasing their social impact. One key outcome we're experiencing across Canada is that many more people with barriers are being employed by social enterprises. That means we are intentionally directing our purchasing to address issues of poverty, homelessness, and social isolation.
The summit will bring together a collection of purchasers from government and business and representatives of social enterprise suppliers to engage in a full day of discovering their common goals, identifying barriers and seeking solutions that will contribute to the future of social purchasing.
For more information on social procurement, registering or sponsoring the summit go to our website: www.buysocialcanada.com or e-mail david@buysocialcanada.com.
Conference Tickets:
You can purchase tickets through this Eventbrite page. Early bird tickets are available from now until October 15th for a reduced ticket price of $225.00, the regular ticketed price is $300.00.
Accommodations:
50 standard hotel rooms at the Crowne Plaza Gatineau-Ottawa have been blocked off for the conference at a discounted price of $149.00/room. To reserve a discounted room, state that you are attending the Buy Social Canada Summit and be sure to make your reservation before October 12, 2017. Please call the hotel to reserve your room at the following number 1.819.778.3880.
We look forward to having you join us at the Buy Social Canada National Summit in November!
---
L'approvisionnement social génère une valeur sociale des achats existants
L'approvisionnement social se produit sous divers formats et modèles, mais il est plus fréquemment atteint grâce à l'ajout d'une valeur sociale aux critères d'achat et d'approvisionnement et d'un accord sur les avantages pour la collectivité aux initiatives de développement et d'infrastructure majeures.
Souvent, l'approvisionnement social est réalisé en assurant l'incorporation d'entreprises sociales dans les chaînes d'approvisionnements existantes. Les entreprises sociales sont des organisations qui cherchent à avoir un impact social, environnemental ou culturel et qui réinvestissent la majorité de leurs profits vers des initiatives sociales.
L'approvisionnement social ne nie pas le besoin de prix compétitifs, de qualité des services et des produits, ni des défis environnementaux; il ajoute simplement un cadre de valorisation lors de la considération d'un achat. L'approvisionnement social émerge ainsi comme un outil pour le Gouvernement, le secteur privé et les organisations à but non lucratif dans la mesure où il servira à exercer une influence sur leurs pratiques d'achats actuelles vers un résultat de valeur ajoutée. En effet, ces efforts mènent à remplacer une simple transaction par une contribution vers la création de collectivités saines.
Les entreprises sociales parviennent à étendre et à augmenter leur impact social grâce à la demande croissante des services et des produits de valeur sociale. L'un des principaux succès témoignés à travers le Canada est l'embauche de personnes qui font face à des obstacles imposés par des entreprises sociales. Conséquemment, nous utilisons de façon intentionnelle notre pouvoir d'achat pour cerner les enjeux liés à la pauvreté, l'itinérance et l'isolation sociale.
Le Sommet rassemblera une série d'acheteurs provenant du Gouvernement et du secteur privé ainsi que des représentants et fournisseurs d'entreprises sociales, afin de s'engager à une journée entière ayant comme objectif de découvrir les objectifs en communs, identifier les défis actuels et chercher des solutions qui contribueront au futur de l'approvisionnement social.
Pour plus de renseignements sur l'approvisionnement social, pour s'inscrire ou devenir commanditaire, veuillez visiter www.buysocialcanada.com ou envoyer un courriel à David@BuySocialCanada.com.
Billets pour le Sommet:
Vous pouvez acheter les billets sur cette page. Les billets pour les participants hâtifs sont disponibles dès maintenant, jusqu'au 15 octobre, pour le prix de 225,00$ chacun. Les billets à prix régulier seront de 300,00$.
Hebergement:
Cinquante (50) chambres au Crowne Plaza Gatineau-Ottawa seront disponibles à un tarif réduit de 149,00$/nuit chacune. Vous pouvez profiter de cette offre jusqu'au 12 octobre, en indiquant votre participation au Sommet Buy Social Canada lors de la réservation. Vous pouvez complétez celle-ci en appelant le numéro suivant:
1 (819).778.3880.
Nous attendons avec plaisir de vous voir au Sommet Buy Social Canada en novembre!
Date and Time
Location
Crowne Plaza Gatineau-Ottawa
2 Rue Montcalm
(Ballroom)
Gatineau, QC J8X 4B4
Canada
Refund Policy
Refunds up to 30 days before event