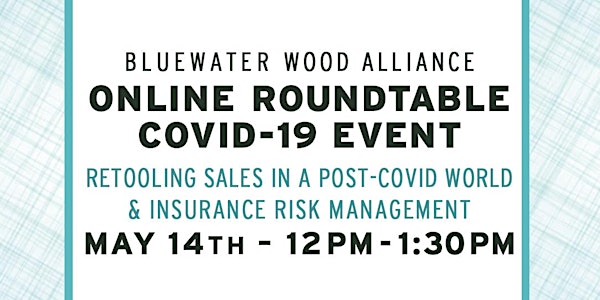 BWA Online Roundtable COVID-19 Event: Retooling Sales & Insurance Overview
BWA Online Roundtable COVID-19 Event: Retooling Sales & Insurance Overview
About this event
Join us Thursday, May 14th online as we look at how to prepare companies for Retooling Their Sales for COVID-19 and what lies ahead in the post-COVID World. This event is open to non-members, community partners & members of CKCA and AWMAC.
This is a truly changed world of interactions. New methods of interconnectivity are going to play a vitally important role in sustainability. How are you preparing for this?  
This event will include:
 1. Andrew Wall, President of Sandler Training Milton will present on:
How comfortable are you with Digital Prospecting?
How effective are you Selling through Zoom meetings?
How do we get Buyers motivated to Buy?
How do we know the "Tire Kickers" from the "Real Prospects"?
As well as Q & A
2. A brief highlight from Alex Bilik of Cowan Insurance & Connie Rowley of Woodsure on ways companies can manage risk and reduce their insurance costs:
Due diligence for renewing policies in a changing economy
Simple changes to their current systems that better align them with today's situations
The unrealized risk with buildings on temporary shut down
Steps to limit risk when reopening
Business interruption coverage
Historical indicators from past market shocks and how
COVID-19 trend applies to the past
And an opportunity for Q&A.
3. And finally, an open discussion with all attendees to see how everyone is coping and dealing with the legislation and business challenges.
Pre-registration is required – please register, and instructions will be sent to you. We will be online a half hour before the event starts to assist anyone who may need help connecting to the video call.
To engage with each other, we will be using Zoom as a channel to conduct our meeting. If you do not already have Zoom, you will need to download Zoom on your computer here. Click here to visit Zoom Download Centre.