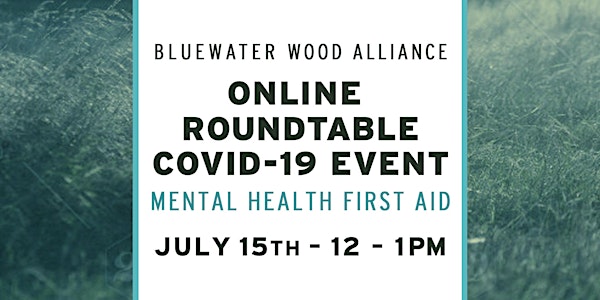 BWA Online Roundtable Event Mental Health First Aid
This event is open to non-members, community partners & members of CKCA and AWMAC.
About this event
How is stress affecting your staff?
Are there things we should be doing to help?
Pandemic uncertainties, job security concerns, work stress and home life stress - many individuals in your workplace may be dealing with elevated levels of stress.
The upcoming BWA Online Roundtable Event explores the Impacts of COVID-19 on Mental Health in the workplace.
First responder and Mental Health professional, Jake Mitchell (RSSW, AMHA, AEMCA) joins us on July 15th to bring the most up-to-date information on addressing Mental Health in the workplace.
Event Topics Include:
How COVID-19 has impacted stress and mental health in the workplace
Supporting employee resilience and individual self-care
Recognizing and Responding Effectively to someone struggling with a mental health problem or crisis
The impact of stress on the mind, body, and existing mental health conditions
How stress affects communication and how to effectively communicate in times of stress (OARS, PACE, other tools)
Substance-use & mental health (drugs, alcohol, etc.)
Jake teaches Mental Health First Aid, Addiction/Mental Health training for groups and organizations, and teaches Life Support skills. He is also a provider of counseling, case management, training, and education on addiction and mental health.
It is more important than ever before to support mental health in the workplace, and actively supporting the well-being of employees in the workplace is a win for everyone involved.
Jake will also share available resources for mental health support and conclude with a Q&A.
Register your spot today!
To engage with each other, we will be using Zoom as a channel to conduct our meeting. Please make sure to update to Zoom 5.0. If you do not already have Zoom, you will need to download Zoom on your computer here. Click here to download Zoom.
Please contact us with all of your questions and concerns.
Mike Baker
Executive Director
Bluewater Wood Alliance
e: manager@bluewaterwoodalliance.com
p: 226-668-5455
Ryan Tabone
Program Coordinator/Advisor
Bluewater Wood Alliance
e: ryantabone@bluewaterwoodalliance.com
p: 226-808-7585
Tara Davey
Program Administrator
Bluewater Wood Alliance
e: admin@bluewaterwoodalliance.com
p: 519-270-7141