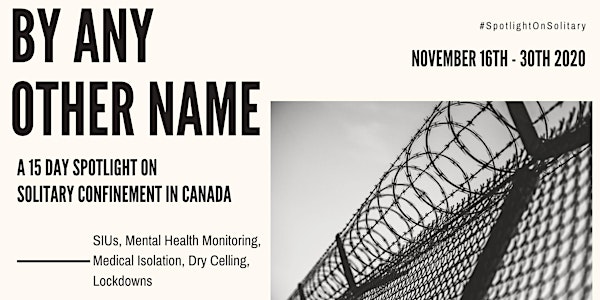 By Any Other Name: Segregation in the Maritimes
A panel discussion on segregation, medical isolation, suicide watch, dry celling, and COVID-19 quarantine in prisons in the Maritimes
About this event
Solitary confinement continues in Canada, just by any other name: SIUs, Mental Health Monitoring, Medical Isolation, Dry Celling, Lockdowns.
Join groups and individuals from across the country to put a spotlight on the ongoing practice of solitary confinement. Join us for daily events, discussion, and action.
Today we will be focusing on segregation, medical isolation, suicide watch, dry celling, and COVID-19 quarantine in prisons in the Maritimes
Our panelists include:
Sheila Wildeman
Sheila Wildeman is an Associate Professor at the Schulich School of Law, a member of Dalhousie's Health Law Institute, a Fellow of the MacEachen Institute for Public Policy and Governance and co-chair of the East Coast Prison Justice Society. Her current research asks how law may promote deinstitutionalization and decarceration through equal access to the social determinants of health.
Harry Critchley
Harry Critchley is a law student at Dalhousie University, the Co-Chair of the East Coast Prison Justice Society, and a member of the Board of Directors for the Elizabeth Fry Society of Mainland Nova Scotia.
Claire McNeil
Claire practices law at Dalhousie Legal Aid Service, in Halifax, Nova Scotia and is a member of the East Coast Prison Justice Society. She has successfully represented prisoners at the Supreme Court and Appeal Court level is challenging restrictions on their liberty by way of habeas corpus. Among her current work, she represents the Disability Rights Coalition in a claim of systemic discrimination based on the Province's unnecessary institutionalisation of people with disabilities and deprivation of meaningful access to social assistance. She has also worked in Nepal, South Africa, and East Africa, on projects aimed at realising international human rights and access to justice.
Emma Halpern
Emma Halpern is a lawyer, activist and advocate who has worked extensively on behalf of vulnerable and marginalized people in Nova Scotia. She is also the Executive Director of the Elizabeth Fry Society of Mainland Nova Scotia an organization that is devoted to improving the lives of women, trans and non- binary people through comprehensive housing supports, innovative programming initiatives, justice system reform and through fostering and developing personal empowerment.
Moderated by: Adelina Iftene
Dr. Adelina Iftene is an Assistant Professor and the Criminal Justice Specialization Coordinator at Schulich School of Law, Dalhousie University, as well as the Associate Director of the Health Law Institute at Dalhousie. Adelina teaches criminal law, evidence and imprisonment and prison policy. Her major research work explores issues related to prison health and access to justice for prisoners, and her manuscript "Punished for Aging: Vulnerabilities, Rights, and Access to Justice in Canadian Penitentiaries," was published by University of Toronto Press in 2019.
This event is pre-recorded and will go live on our YouTube channel at the event start time.
Organizing partners: Prisoner Legal Services, Schulich School of Law - Dalhousie University, the John Howard Society of Canada, and the Canadian Association of Elizabeth Fry Societies.