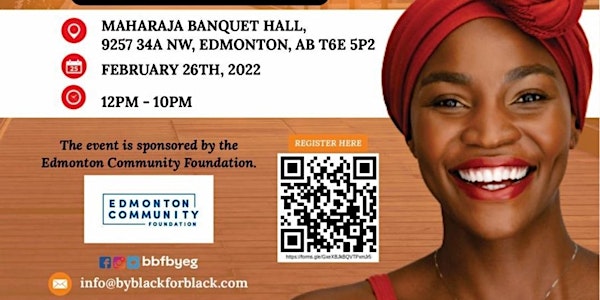 By Black For Black Business Summit
You are invited to the BBFB Business Summit. Network with Black businesses and expand your possibilities through our Lunch and Learn session
When and where
Location
Maharaja Banquet Hall 9257 34A Avenue Northwest Edmonton, AB T6E 5P2 Canada
About this event
Event Date: February 26th, 2022 | Time 11 am -10 pm
Event Address: Maharaja Banquet Hall, 9257 34a NW, Edmonton, AB T6E 5P2
Black History Month celebrates African Diaspora in Canada.
This is a FREE Event | Everyone is Invited
On February 26th, 2022, in celebration of Black History month, the BBFB project will be hosting Black Business Owners and Entrepreneurs across Edmonton at the inaugural By Black For Black (BBFB) Business Summit.
This FREE Business summit will showcase and celebrate the works of some of Edmonton's Black Businesses and Entrepreneurs. In addition to this, there will be a Lunch and Learn session with Edmonton's Black changemakers. Come and taste the best of Africa's cuisines.
BBFB Summit is an annual gathering where black business owners, professionals and their supporters meet each year to learn about new trends and innovations in the business world. BBFB is also a place where people of all ethnicities come together to network, advocate and advance through creativity and culture.
The Lunch and Learn Session is a two-hour panel where our panellists will share their experience as change-makers in the City. We hope to provide some compelling information about how Black businesses thrive in Edmonton.
Our panellists include Dunia Nur, the President of the African Canadian Civic Engagement Council, Sharif Haji, the Executive Director of Africa Centre, Rochelle Ignacio, the Managing Partner of the Black Owned Market (BOMYeg) amongst others.
Please tell your friends and family - your entire network -about this event as we want you to meet Edmonton's Black Businesses, listen and experience growth through the dissemination of knowledge in the Lunch and Learn Session.
We are expecting 25 Black businesses to showcase their businesses. These businesses are in retail, real estate, fashion and beauty and many more. Entrance to the event is free, but you will need to register so we know you are coming.
The event is sponsored by the Edmonton Community Foundation.
RSVP
While tickets are free we would appreciate it if you're able to register so we can know how many attendees to expect.
You will receive event reminders and important updates related to weather, safety or other pertinent information.
COVID Information
The venue will require you to show your proof of vaccination and government-issued identity document (Driver's License ) or a negative Covid-19 test taken within 72 hours of attending the Summit.
Please come prepared to show the needed documents.
Day Program
Business showcase/networking: noon to 3 pm
Special Remarks Time: 3 pm
Late lunch: 3:15pm
Business Summit: 4 pm -6 pm
Business showcase/networking: 6 pm to 8 pm
Website: www.byblackforblack.com