Celebrate our 14th Anniversary, and kick-off to a brand new season of the very best wrestling in Canada!
About this event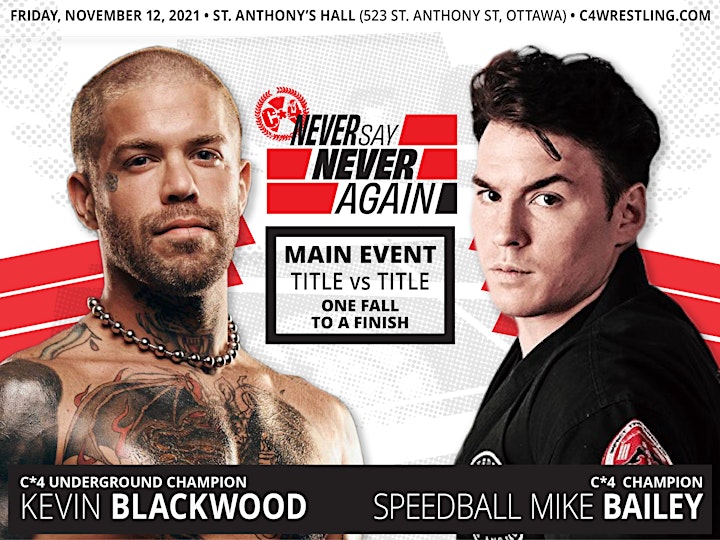 C*4 presents "Never Say Never Again"
Friday November 12th, 2021
St. Anthony's Hall (523 St. Anthony's Street), Ottawa
Doors: 6:30 PM // Show: 7:30PM
Ticket Prices: Front Row - $45 // General Admission - $35 ($40 at the door)
Covid Protocols:
• Updated Capacity – Total attendance will be roughly 85% of a normal C*4 event, and venue capacity.
• Proof of Vaccination required for entry. Absolutely no exceptions.
• Masks will be mandatory for all guests and staff members. If you have food or drinks, you may eat or drink while seated. When you're not doing that, mask up.
• Attendance will be restricted to guests over 12 and above (limited to those who are eligible for Covid19 vaccinations.) Generally, our shows are aimed at 16+, and we recommend that for this show as well.
• Speaking of vaccines: C*4 management will be requiring proof of vaccination from all talent appearing. As well, all staff will be fully vaccinated. We encourage and hope that all of you who are planning to attend will be fully vaccinated by September 18, 2021. For details on getting vaccinated: https://covid-19.ontario.ca/book-vaccine/
.