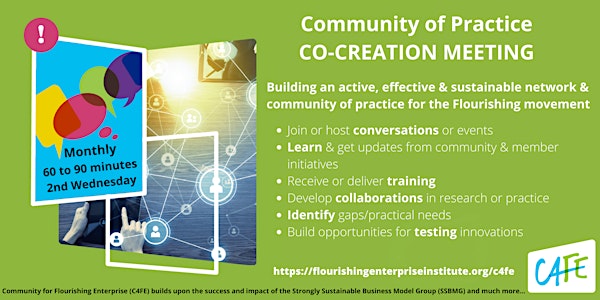 C4FE Community of Practice - Monthly 2nd Wednesday (select your dates)
Convening volunteer catalysts who wish to take an active role in co-creating and animating the Community for Flourishing Enterprise (C4FE)
About this event
Curious? Want to join us in creating a community of practice?
Ready to contribute some of your effort? Already on the team as a champion activating an idea?
We continue exploring the co-creation of the community, and the events and activities that will define us!
Want to add value for yourself and the rest of the community by sharing your ideas, expertise, time, resources, etc.? Building on the work of previous meetings. New Ideas and participants always welcome!
If you cannot make the meeting but would like to have a conversation with the core team to learn about potential opportunities please still register for the event. This will ensure you get follow-up emails as the development of C4FE progresses.