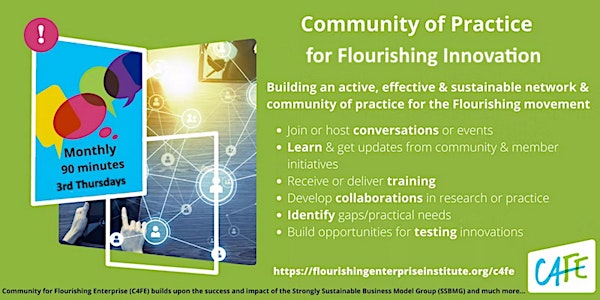 C4FE Talks - Monthly Community of Practice
The Community for Flourishing Enterprise (C4FE) is a monthly session to engage applied research & practice in organizational flourishing.
About this event
The C4FE is the active community of practice for organizational flourishing, hosted  by the Flourishing Enterprise Institute.  After 101 meetings, in 2022 the original CoP, the Strongly Sustainable Business Model Research Group, developed into a community of practice committed to innovation and applied research.
These are non-formal discussions among community leaders with innovative work and updates from innovation and research across the FEI and our partners. Now into 2023 we are hosting sessions at 4:00 EST on 3rd Thursdays for:
Opening up broader involvement in C4FE
Holding regular C4FE talks on research and innovation
Including partners and speakers from outside FEI
Building on your ideas and leadership from 2022!