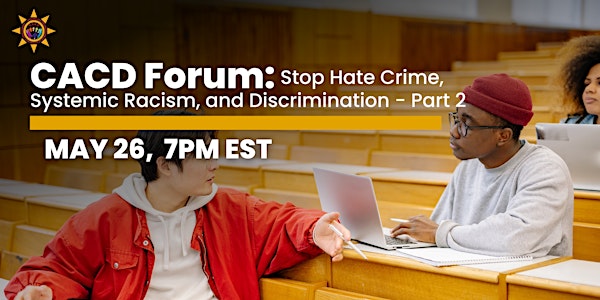 CACD Forum: Stop Hate Crime, Systemic Racism, and Discrimination - Part 2
Join us in discussing issues and barriers youth are facing, particularly BIPOC and other minority youth, in the Peel Region and beyond.
About this event
You are cordially invited to join CACD on May 26th, 2022, from 7 p.m. to 9 p.m. as we continue the conversation on Hate Crime, Systemic Racism and Discrimination. In this second Forum, we will discuss the why behind the injustice we see in our communities. Discovering why biases form and where they come from allows us to understand how imbalances in our schools and justice systems form in the first place. Be a part of the conversation and learn about root causes so we can create avenues for change together.
As background information for those of you who missed the April Session, this series of forums are bent on educating and providing information to the community, showing support for racialized communities and equipping youth with a better understanding of racism and bigotry to help prevent them.
This series of forum build organizational and community capacity to recognize and act to prevent occurrences of racism and hate and support the delivery of culturally responsive services to individuals and families that are adversely impacted.
As these community forums are conducted, we hope to continue leveraging partnerships and engaging a broad cross-section of affected communities, groups, and educators as we work to impact BIPOC youth in our school system positively. We want to engage concerned community members, particularly racialized groups and enable them to raise their voices in awareness-raising and collective dialogue with the education sector, justice, mental health etc., about these issues to mitigate and reduce the adverse impacts of various experiences racism, hate and discrimination.