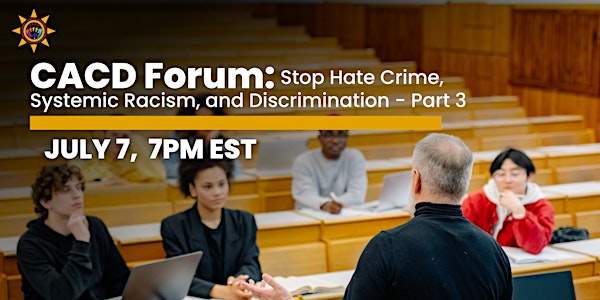 CACD Forum: Stop Hate Crime, Systemic Racism, and Discrimination - Part 3
Location
Mississauga Valley Community Centre - Program Room 1
1275 Mississauga Valley Boulevard
Mississauga, ON L5A 3R8
Canada
Join us in discussing issues and barriers youth are facing, particularly BIPOC and other minority youth, in the Peel Region and beyond.
About this event
The CACD Community forums have been a platform to discuss issues around hate crimes, discrimination and Systemic Racism that BIPOC youth face in peel region. In April we discussed What is happening, what implications discrimination has on student mental health and what gaps have formed in our police and education systems. In May we talked Why these issues take place, through discussion around social determinants of health, the need for policy changes and systems of reporting.
In our final discussion we will talk about How we take action. How do we support BIPOC youth find their voice at school, How do we support parents and families advocate for their children and How as a community do we mobilize lasting change.
This time around, we will be meeting in-person at Mississauga Valley Community Centre (Program Room 1)!
Doors at 6:30PM - Refreshments to be provided.