Description
Projection du film C.R.A.Z.Y. de Jean-Marc Vallée
Screening of C.R.A.Z.Y. by Jean-Marc Vallée
//English follows //
Learn French (and English) through the arts
FrancoQueer is proud to present our new queer film series as part of our Bilingual Café programming. The series consists of 6 film screenings throughout the year with talk-back after the film. For more information on our bilingual program, including our weekly discussion circles and our French classes, visit www.francoqueer.ca/cafe
For our first film, we are very excited to present Jean-Marc Vallée's masterpiece, C.R.A.Z.Y. The movie follows Zac, a young French-Canadian, growing up in the 1960s and 1970s, struggling to reconcile his emerging homosexuality with his father's conservative values and his own Catholic beliefs.
We look forward to seeing you all there for a night of queer film and popcorn!
Apprenez l'anglais (et le français) à travers les arts
FrancoQueer est fier de présenter notre nouvelle série de films queers, part de notre programme Café Bilingue. Cette série consiste en 6 films présentés durant l'année avec discussion après le film. Pour plus d'information sur notre programme bilingue, incluant cercles de conversations et cours de français, consultez www.francoqueer.ca/cafe
Pour le premier film, nous sommes heureux de présenter C.R.A.Z.Y., le chef-d'oeuvre du cinéaste Québecois Jean-Marc Vallée. Le film retrace la vie de Zac, un jeune franco-canadien grandissant durant les années 1960's et 1970's, qui essaie d'exprimer son homosexualité, à l'encontre des valeurs conservatrice de son père et de ses propres croyances catholiques.
On espère vous voir ce soir-ci pour une soirée de film queer et popcorn !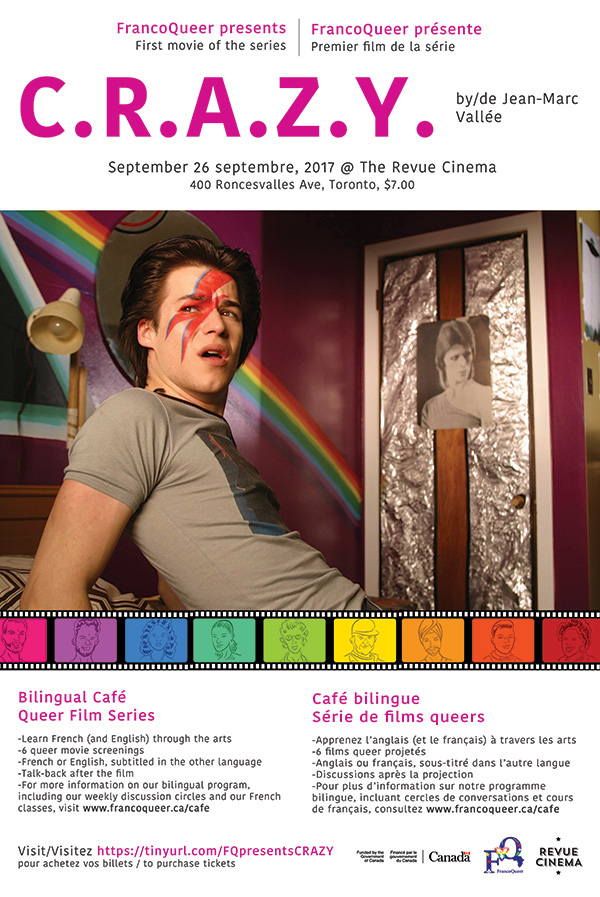 Organizer of Café Bilingue - C.R.A.Z.Y. / Bilingual Café - C.R.A.Z.Y.
FrancoQueer est une association citoyenne sans but lucratif, par et pour les personnes LGBTQIA* à Toronto et en Ontario. Elle vise à rassembler et représenter les personnes d'expression française qui s'identifient comme LGBTQIA, à leur offrir du support, des services et des programmes adaptés, ainsi que des activités leur offrant l'occasion de célébrer leur diversité en français. Nous offrons un programme d'aide à l'intégration et à l'établissement des réfugiés LGBT francophones afin de les accompagner vers les services appropriés et de les aider à exprimer leur vraie identité. Notre festival Franco Fierté est le seul festival de la fierté, francophone, à Toronto et en Ontario. Chaque année en juin, c'est une occasion unique de célébrer la diversité de la communauté francophone LGBTQIA+.
Pour obtenir de l'information, écrivez à info@francoqueer.ca, appelez le (647) 709-2600 ou connectez-vous sur http://www.francoqueer.ca/ 
---
FrancoQueer is a non-profit grassroots organization, by and for the Francophone LGBTQ+ community in Toronto and in Ontario. Its mission is to offer a safe space where French-speaking people who identify as LGBTQ+ can find support, services and programs that are culturally adapted to them. We provide a platform that connects LGBTQ+ people who speak French or are interested in the French language and culture. FrancoQueer  runs a settlement and integration program that helps LGBT refugees access appropriate services and allows them to start expressing who they are freely. Our Franco Fierté festival is the only Francophone Pride festival in Toronto and Ontario. Every year in June, it is a unique opportunity to celebrate the diversity of the Francophone LGBTQIA+ community.
For more information, écrivez à info@francoqueer.ca, call (647) 709-2600 or visit http://www.francoqueer.ca/