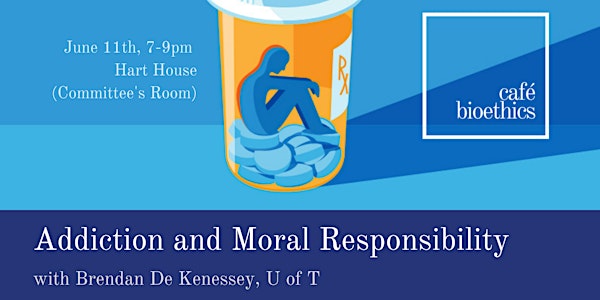 Café Bioethics: Addiction and Moral Responsibility
When and where
Location
Hart House - Committee's Room (2nd Floor) 7 Hart House Circle Toronto, ON M5S 3H3 Canada
Description
Is addiction a moral failure? Do our actions always reflect our preferences? Are harm-reduction strategies "enabling" addiction? Why might it be so difficult for people with addictions to quit?
This month we'll be discussing moral responsibility with regard to addiction. Leading the discussion is

Brendan de Kenessey. Brendan is an Assistant Professor of Philosophy at University of Toronto. Before coming to Toronto, Brendan received his PhD in philosophy at MIT in 2017 and was a postdoctoral fellow at the Edmond J. Safra Center for Ethics at Harvard University in 2017-18. He works in moral philosophy and moral psychology, writing on topics such as promises, joint decision-making, the nature of moral obligation, and the philosophy of addiction and self-control.
...
This is a multi-layered discussion, so individuals with various backgrounds are welcome, as always!
If you would like to
simply attend and listen to the discussion, this is totally allowed and welcome. It is my utmost priority for those who attend to enjoy the event and feel comfortable! Free flowing discussion (with my moderation) is encouraged!

Please don't hesitate to ask any questions. Follow us on Facebook, Twitter, or Instagram! Email us anytime at cafebioethics@gmail.com. Join the email list here!


Thank you so much for your support!