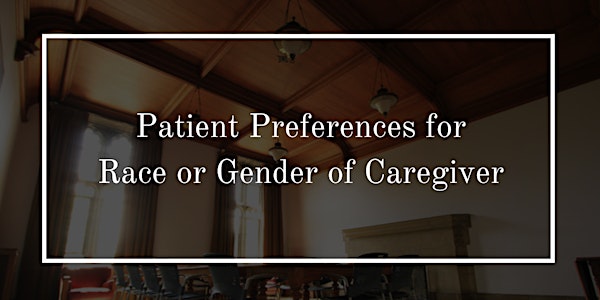 Café Bioethics: Patient Preferences for Race or Gender of Caregiver
When and where
Location
Hart House - Committee's Room (2nd Floor) 7 Hart House Circle Toronto, ON M5S 3H3 Canada
Description
What should happen when a woman requests that she not be seen by a male gynaecologist? What should happen when a caucasian patient requests only caucasian clinicians? How far should a team go to accommodate the preferences of a patient? What factors should be kept in mind?

This month we'll be discussing caregiver preference and the difficulties associated with drafting policy for the issue. Leading the discussion is Dr. Melissa McCradden.

Dr. Melissa McCradden obtained her PhD in Neuroscience from McMaster University and is currently pursuing a Master's in Bioethics at the University of Toronto. She is beginning a postdoctoral fellowship in Clinical Ethics and Research in Artificial Intelligence through SickKids and Vector Institute for AI.



...



This is a multi-layered discussion, so individuals with various backgrounds are welcome, as always!





If you would like to

simply attend and listen to the discussion, this is totally allowed and welcome. It is my utmost priority for those who attend to enjoy the event and feel comfortable! Free flowing discussion (with my moderation) is encouraged!

Please don't hesitate to ask any questions. Message us on Facebook or email us anytime at cafebioethics@gmail.com.


Thank you so much for your support!