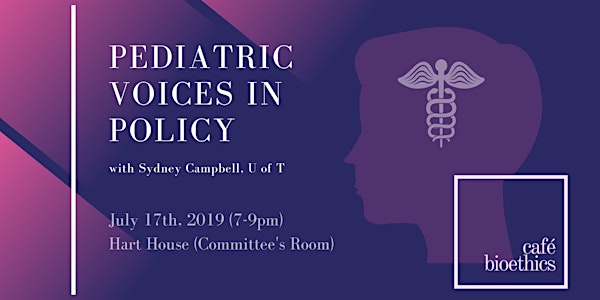 Café Bioethics: Pediatric Voices in Policy
When and where
Location
Hart House - Committee's Room (2nd Floor) 7 Hart House Circle Toronto, ON M5S 3H3 Canada
Description
In 1989 the UNICEF Convention on the Rights of the Child (CRC) came into affect with the goal of protecting and fulfilling the rights of children around the world. Amongst other rights, the CRC prioritizes the right children have to participate in discussions and decisions that impact them. While the CRC was the most widely ratified human rights treaty in history, evidence suggests that encouraging youth involvement in policy-level discussions is still absent, despite various national plans to include youths' voices. Thus, the questions become: what level of moral responsibility do governments and institutions have to ensure members of the paediatric population are involved in discussions that have the potential to impact them? Are there times when a child's right to protection outweighs their right to participate in such discussions? When should a child-centred lens be adopted in health policy and when might this lens be morally problematic?
This month we'll be discussing the moral responsibility of including the voices of mature minors in healthcare policy discussions. Leading the discussion will be Sydney Campbell.

Sydney is a Graduate Student in the Institute of Health Policy, Management and Evaluation at the University of Toronto, simultaneously completing a Collaborative Specialization in Bioethics. Prior to beginning this program, Sydney completed her MA in Philosophy at the University of Toronto and a Collaborative Specialization in Bioethics through the Joint Centre for Bioethics. She is interested in the field of paediatric bioethics and her thesis plans to focus on the experiences of competent minors in being ineligible to access an assisted death in Canada. Aside from her academic interests, Sydney is also passionate about increasing the bioethics community and founded the University of Toronto Bioethics Society as a way to do so.
...
This is a multi-layered discussion, so individuals with various backgrounds are welcome, as always!
If you would like to
simply attend and listen to the discussion, this is totally allowed and welcome. It is my utmost priority for those who attend to enjoy the event and feel comfortable! Free flowing discussion (with my moderation) is encouraged!

Please don't hesitate to ask any questions. Follow us on Facebook, Twitter, or Instagram! Email us anytime at cafebioethics@gmail.com. Join the email list here!


Thank you so much for your support!