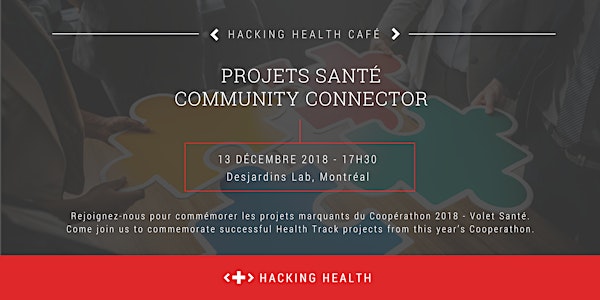 Café Hacking Health: Rassemblement Projets Santé - Community Connector: Health Projects
When and where
Location
Complexe Desjardins 175 René-Lévesque Blvd W Desjardins Lab Montréal, QC H2X 3Y2 Canada
Refund Policy
Refunds up to 7 days before event
Description
Rejoignez-nous pour commémorer tous les anciens et nouveaux projets issus des hackathons Hacking Health et Coopérathons - Catégorie Santé dans la communauté montréalaise. Nous vous invitons à revenir présenter dans un cadre plus informel afin que tous les participants au concours de cette année aient l'occasion de partager leurs réflexions et leurs idées avec vous. Nous invitons également tous les anciens participants ou tous les nouveaux venus qui souhaitent venir présenter leurs idées.
Venez célébrer avec nous!"
Rejoignez-nous le 13 décembre de 17h30 à 20h30 au Desjardins Lab pour discuter de ce sujet et explorer différentes manières d'innover en santé avec un impact social maximal. Des collations et des boissons seront servies. La soirée se conclura par une séance de réseautage accompagnée.
Si vous avez une idée de projet ou un projet en cours, n'hésitez pas à venir nous les présenter! C'est un bon moyen de faire connaître votre projet et de trouver des personnes intéressées à travailler dessus avec vous.
Hacking Health est un organisme international à but non lucratif visant à amener des innovations en santé. Les innovations peuvent être des services ou des technologies. Cet organisme vise à regrouper des gens qui ne se seraient pas nécessairement croisés dans la vie de tous les jours (ex: professionnels de la santé, ingénieurs, gestionnaires, programmeurs, développeurs, aidants naturels, etc).
Hacking Health rassemble les parties prenantes de toutes les sphères de la société. Nous avons pour mission de catalyser la collaboration en permettant aux principaux acteurs impliqués de co-créer des solutions innovantes, concrètes et répondant aux défis de la santé.
Il y a différents HH cafés pendant l'année (soirées de conférences et d'idéation) et un grand Coopérathon à l'automne, qui est le plus gros événement de l'année.
Join us to commemorate success stories and developing projects of Hacking Health hackathons and Coopérathons - Health stream in the Montreal community. We invite you to return in a more informal setting so that all participants in this year's contest have the opportunity to share their thoughts and ideas with you. We also invite all former participants or newcomers to come and present their ideas.
Join us on December 13 from 5:30 pm to 8:30 pm at the Desjardins Lab to discuss this topic and explore different ways to innovate in health with maximum social impact. Snacks and drinks will be served. The evening will end with a networking session.
If you have a project idea or a project in progress, do not hesitate to come and introduce them! It's a good way to publicize your project and find people interested in working on it with you.
Hacking Health is an international non-profit organization dedicated to bringing health innovations. Innovations can be services or technologies. This organization aims to bring together people who would not necessarily meet in everyday life (ex. health professionals, engineers, managers, programmers, developers, caregivers, etc.).
Hacking Health brings together stakeholders from all walks of life. Our mission is to catalyze collaboration by enabling the main actors involved to co-create innovative, concrete solutions that meet the challenges of health.
There are different HH cafes during the year (conference and ideation evenings) and a big Co-operathon in the fall, which is the biggest event of the year.