Ce café virtuel sera gratuit, d'une durée d'une heure et vise à rassembler les acteurs de l'industrie touristique (English below)
About this Event
Les opérateurs et/ou entrepreneurs bilingues en tourisme, en hospitalité et en événement sont invités à se rassembler pour un café virtuel sur l'industrie touristique au Manitoba.
Sylvie Foidart, coordonnatrice du développement de produits touristiques au Conseil de développement économique des municipalités bilingues du Manitoba (CDEM), fera d'abord une courte présentation en français sur notre saison touristique hors du commun.
Ensuite, les participants échangeront sur leur réalité, leurs défis, leurs préoccupations et leurs succès. Cet échange se veut non formel et dans la langue de choix (français ou anglais) des participants.
Cette rencontre est gratuite, il vous suffit de confirmer votre participation (maximum 15 participants). Un lien pour accéder la plateforme zoom vous sera envoyée la veille.
Date et heure : Vendredi le 20 novembre de 15 h à 16 h
Rassemblons-nous pour partager!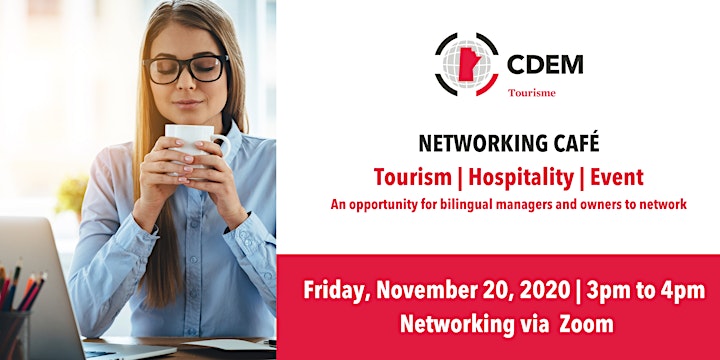 This virtual networking café will be free of charge and should last about one hour. The goal is to gather industry stakeholders to network and share
Bilingual managers and owners in the tourism, event and hospitality industry are invited to gather for a tourism Manitoba virtual networking café.
Sylvie Foidart, Coordinator of tourism product development for bilingual municipalities in Manitoba (CDEM), will offer a short presentation, in French about the overall tourism situation in our province during these unusual times.
Followed by your contribution as participants about your reality, challenges, concerns and successes. Your informal contribution to his conversation can be in French or in English.
There is no fee to participate, all you need is to register on line to confirm your participation (maximum of 15 participants). You will receive a link to connect to the zoom platform the day before the meeting.
Date and time: Friday, November 20th from 3pm to 4pm.
Let's get together and share!