Acoustic guitars ivory keys and angelic harmony vocals.
About this event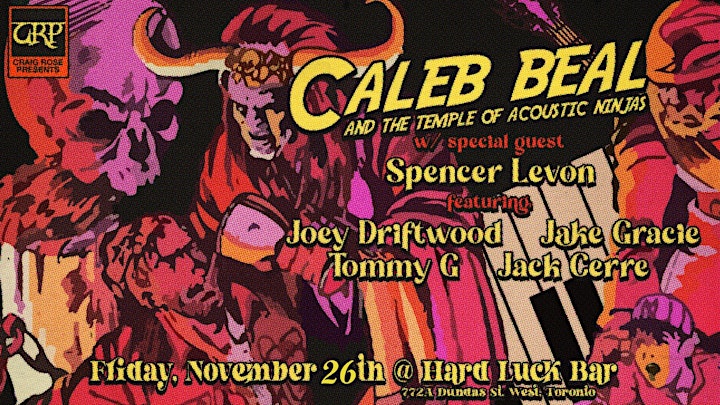 Caleb Beal and The Temple of the Acoustic Ninjas featuring Spencer Le Von. Starring Joey Driftwood, Jake Gracie, Tommy G, Jack Cerre
Caleb Beal of the local Toronto band Villain reaches into your soul, with acoustic guitars ivory keys and angelic harmony vocals. This will be the 4th installment of our monthly Solo Showcase featuring Spencer Le Von of Faceplant/Fatality. The boys will be performing solo and collaboration s version of cover songs and originals. The event will also showcase the super talented Joey Dritwood, Jake Gracie (Villain), Tommy G (Panzerfaust), Jack Cerre (Black Absinthe).
This show has grown from our first return to the Hard Luck and with the seated restrictions we have just been easing our way back into things with this outpouring of raw talent.
These are certainly not 'gay piano shows' as one soulless trollop would say. But these are raw human expression thru genie musicianship. If your heart bleeds come pull up a chair and have a listen.
This event at the Hard Luck Bar in Toronto is being sold at general admission.
NO ticket minimum.
Friday November 26, 8pm 19+
$12 Presale,