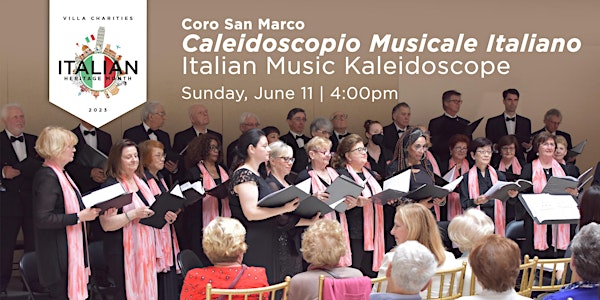 Caleidoscopio Musicale Italiano / Italian Music Kaleidoscope
Join Coro San Marco for a concert featuring Italian religious, traditional, popular, and film music.
Date and time
Starts on Sun, Jun 11, 2023 4:00 PM EDT
Location
Joseph D. Carrier Art Gallery, Columbus Centre 901 Lawrence Avenue West Toronto, ON M6B 4E7 Canada
About this event
Coro San Marco
Caleidoscopio Musicale Italiano / Italian Music Kaleidoscope
Coro San Marco performs "Caleidoscopio Musicale Italiano", a concert featuring a selection of religious, traditional Italian music, as well as popular music and music from film and operas. Those who attend the concert will experience the world premiere of "Non Ti Appartiene", music composed by the Italo-Canadian musician Maria Molinari.
During the concert, Coro San Marco will award scholarships to some young musicians who will pursue their music studies in a Canadian University.
Sunday, June 11
4:00 - 5:00pm
Price:
$15.00
For more information email cultural@villacharities.com or call 416-789-7011.
Co-presented by Coro San Marco. Supported by Toronto Arts Council with funding from the City of Toronto.
Bio
Coro San Marco
The choir was founded in 1995 when Daniele Colla and the late Joe Fellin, banded together with a group of Italians, mostly from the Veneto region and with a passion for music. They all agreed to name the choir San Marco after the St. Mark's Basilica in Venice. Since then, the choir has developed into a multi-ethnic choir with choristers from all different nationalities and backgrounds who enjoy singing and share a love for choral music.
The choir has a vast repertoire of folk, classical, religious, and operatic music. And it has performed extensively at many concerts, international festivals, and charitable events. Coro San Marco met in 1995 with the Schola Cantorum (German Choir) and Le Voix du Choeur (French choir) and organized a concert: Singing Together, which has become a very successful annual event.
About the organizer
About Villa Charities
A registered charity, Villa Charities enriches lives through experiences and services that honour Italian culture and heritage. For more than 50 years across the GTA, the organization has provided cultural and educational programs and supported culturally sensitive long-term care and independent living apartments for seniors. VCI fulfills their mandate through a broad range of activities, services and facilities, both directly and in conjunction with its affiliates and independent organizations. Affiliates include Columbus Centre and Joseph D. Carrier Art Gallery; Villa Charities Foundation; Villa Colombo Homes for the Aged Inc. in Toronto; Villa Colombo Seniors Centre (Vaughan) Inc. Di Poce Centre; and Italian Canadian Benevolent Seniors Apartments Corporation/Casa Abruzzo Benevolent Corporation with apartments for independent seniors (Caboto Terrace, Casa Del Zotto and Casa Abruzzo). Each of these organizations is an integral part of the Villa Charities family with separate legal status and its own governance Board. For more information visit villacharities.com.