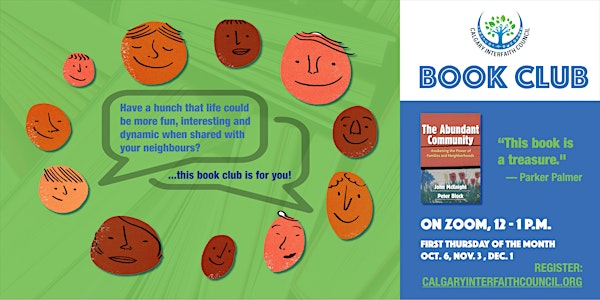 Calgary Interfaith Council Book Club
This book club is for everyone who has a hunch that life we share with the people in our neighbourhoods can be fun, interesting and dynamic!
About this event
We are so excited to be exploring the theme "From Strangers to Neighbours" over the next 18 months. We are going to step into this theme through a Zoom book club looking at Abundant Community by John McKnight and Peter Block.
Each book-club gathering will include a time of conversation with a couple of our CIC members speaking to the themes raised in the book from their traditions and experience. The remainder of the time will be in structured small groups and large-group sharing.
You will receive a Zoom link prior to the event.
This book is available in paperback and e-book form on Amazon, Kindle and in libraries.
On Nov. 3, we will discuss Chapter 1. If you would like a PDF copy of this chapter, please email Sarah: arthurssarah2020@gmail.com.