Calgary: Ladies Learning Code Instructor & Mentor Appreciation Night on Nov...
Description
Hey you! Have you joined the Canada Learning Code mailing list? If not, join here.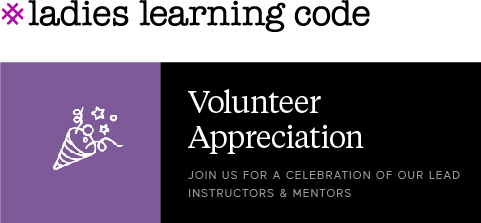 ---
What is this event all about?
It's hard to believe, but Ladies Learning Code has been around for four years in Calgary! In that time, we've been blown away by the support we've received from the technology community. Thank you to everyone who has contributed to the success of Ladies Learning Code Calgary. We couldn't do it without you.
The group we'd especially like to recognize at this time are the amazing members of Calgary's technology community who have joined our 'tech help' email list - the people who commit to getting involved with Ladies Learning Code as a volunteer lead instructor or mentor. Incredibly, this list has grown to approximately 2,000 people across the country. To everyone who has joined us as a lead instructor or mentor at a Ladies Learning Code workshop, thank you. This event is for you.
This also for people who haven't had the chance to volunteer yet, but are interested! We would love to take this opportunity to meet you, and to put names to faces.
Have you been to one of our workshops and want to know more? Then the donation-style ticket is for you. Support our organization and come and mingle with the city's most amazing developers and designers!
Please join us for our Lead Instructor & Mentor Appreciation Night. Come and hang out the team behind Ladies Learning Code, connect (and re-connect) with other awesome people who have led and mentored at Ladies Learning Code workshops in the past, and celebrate with us the fact that - together - we've helped over 25,000 beginners across the country learn to code in the past four years. There will be beer, snacks and LLC signature drink (on us, of course!). Register now and join us for a great event.
Questions? Email us at info@canadalearningcode.ca
You can also find us here:





What participants say about our programs:
"Honestly, the set up of one instructor - four students is brilliant."
"I'm super impressed with the organizers and participants, and I think it's a really valuable initiative"
"[The best part of the workshop was] the positivity, helpfulness and eagerness to learn/teach of every person in the room."
"After years of teaching myself to code, I wasn't sure how I'd find the collaborative experience of an LLC workshop- but it completely exceed my expectations. The lead instructor was clear and throrough, and the volunteer instructors were always ready to throw new challenges at us the moment they saw we'd completed the current task. Solving a coding problem has always been exciting for me, but havin a group of people equally excited about it was amazing!"
Hope to see you soon!
If for some reason you can't make it check out our REFUND POLICY.