Calligraphy & Brush Lettering for Self Care + Community + Social Impact [Va...
Description
You're in the right place if:
You're curious and secretly admire the calligraphy craze on Instagram. You're inspired to stretch your creative muscles. You wonder if this could be your new form of self-expression or you want to create cards and gifts for friends.

Or maybe you're not confident in calling yourself creative, you feel a little dry, but you're hungry for inspiration, for something new...a new creative outlet and a way to slow down from the pace of life.

Or perhaps you're a closet calligrapher, experimenting on your own at home through youtube videos or library books. You wonder if real-time learning with like minded pen geeks might accelerate your learning.

Or maybe you're searching for a fun and meaningful experience to share with your friends.
No matter where you are in your journey, these calligraphy workshops will refresh your heart and empower you with the creative confidence and tools to live an inspired and intentional life of impact.
This is your invitation to step away from the craziness of your daily life for a little creative space for relaxed fun, inspiration, and connection. Consider it treating yourself to a mini-retreat!
In a hyper-digitized super-speedy world, calligraphy and handlettering bring back a touch of personal and relaxation/reflection into your life and relationships.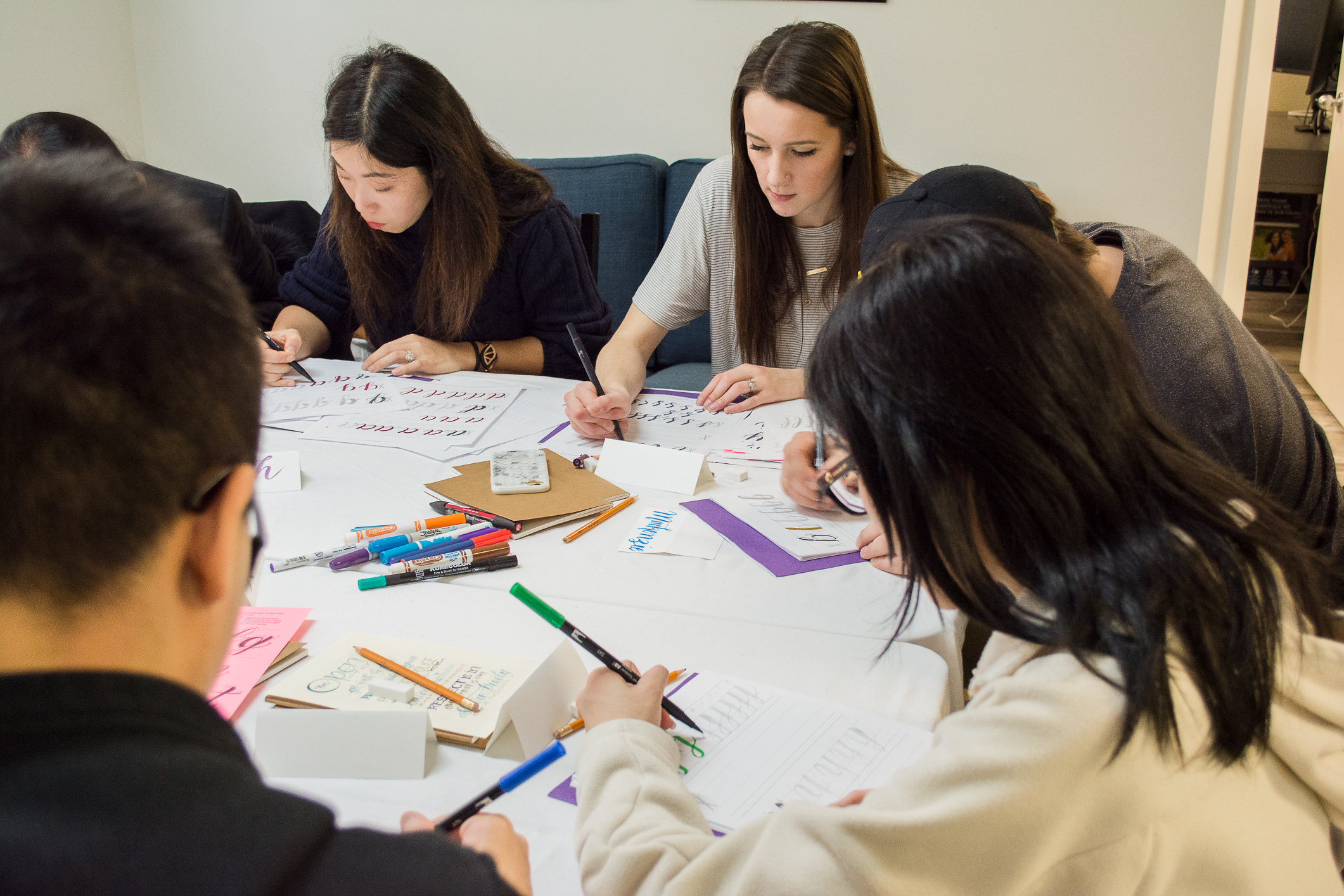 SAVE YOUR SEAT (and a few fees) OVER HERE>>
MORE DATES AVAILABLE OVER HERE>>
In this 3 hour introductory workshop, you will:
Show up for yourself, slow down, refresh your heart, and turn on your creative spark in an encouraging, collaborative space. We'll start with a reflective warmup exercise before we dive into teaching Calligraphy as a simple tool to practice creative self-care, which will bring a little more calm and creative play into your daily life.

Learn the BASICS OF BRUSH PEN CALLIGRAPHY (SCRIPT LETTERING), enabling you to build a foundation for future adventures (gifts, cards, envelopes, pointed pen dip pen calligraphy, endless possibilities, oh my!) Beyond just copying a project, you'll gain the skill to create your own meaningful gifts and notes to share positivity and love with others.

Get hands-on instruction and immediate feedback tailored to you, saving you time, reducing frustration, accelerating your progress (this ain't youtube here ;)

Speed date a ton of pens from the community tool box (so you don't have to waste money on pens you don't like in building your own collection!)

Create meaningful connections and conversations with others in community. Meet some new people, or invite a friend for a creative date (makes a great gift!). $10 off when you bring a friend!

Collaborate and contribute to a purpose greater than yourself…10% of proceeds will be donated to helping women start a new life free from sexual exploitation. You'll also be given opportunity to write love notes of encouragement to women in recovery.
WHAT OTHERS HAVE EXPERIENCED:
"I was scared to do calligraphy, because I can be such a perfectionist. Justine held a supportive, loving, and inspiring space where I overcame a huge block and fear around creativity, putting down my judgment and simply created. The laughter and fun of the day effortlessly led me over my own hurdles." ~Karen
"I was nervous but Justine really focuses on where you are, not on technical perfection. Getting into the flow and space of slowness, helped me identify it's something I really need. The heart workshops connected me to the value of building connections and community." ~Pam
"I needed a peaceful creative experience so badly. Justine's warmth made everyone at ease and created a safe and welcoming learning environment. It was a beautiful experience how Justine connected our hearts and minds while teaching us creative skills. Justine has a gift." ~Shaley
WHAT WE WILL COVER:
Definitions and terminology

Supplies + finding the pens you like

How to hold the pen + Pressures of the brush pen

Warm-up drills

Foundational strokes

How to connect strokes into lowercase letters

How to connect letters into words

Finding your style
TICKET INCLUDES:
3 hours of Instruction and interaction (class size limited to provide tailored feedback + increase community connections)

Personalized name tag

Tombow dual brush pen

Complete 40 page Lettering Workbook with basic strokes and lowercase brush script

A take home PDF of practice worksheets

Uppercase and Lowercase lettering examplar guide sheets

Access to try all the pens from the community tool box

Cardstock to make cards for women in recovery served by our partner charities

Light refreshments
THIS WORKSHOP IS IDEAL FOR:
Beginners with no experience with no idea where to start

Self-experimenting, you-tube surfing dabblers who want live feedback or want to sharpen their lettering

Anyone who likes to get creative for a good cause
WHAT TO BRING:
Your smile, and an open spirit to learn and make connections in community. (All supplies will be provided).
You deserve to treat yourself to a creative date that will refresh your heart and bring inspiration to others. The world will be brighter for it!
10% of proceeds will go to http://www.safoundation.com, a charity with a proven long term success in freeing women from a life of sexual exploitation in Vancouver and globally.
REFUNDS are not available, however you may defer your ticket to a future workshop, or you may transfer your ticket to a friend. If the workshop is cancelled due to not reaching the minimum number of participants required to run it, you will have a choice of deferring your ticket to a future workshop, or receiving a full refund.
SAVE YOUR SEAT (and a few fees) OVER HERE>>