Event Information
Location
Newmarket Public Library
438 Park Avenue
Newmarket, ON L3Y 1W1
Canada
Refund policy
Contact the organizer to request a refund.
Eventbrite's fee is nonrefundable.
Shadowpath gets medieval along Main St Newmarket with the first known female playwright, Roswitha.
About this event
Go back in time with Callimachus, a one-of-a-kind, on-the-move, immersive theatre experience. Explore Main Street Newmarket to discover Callimachus and the obsession that leads him (and you!) to his ultimate fate. #immersivetheatre #dinnertheatrepackages #Roswitha
Shadowpath is committed to creating accessible theatre.
ACCESSIBILITY - About 15 minutes of gentle walking is required. Approx 5 minutes of standing is required for TWO scenes = 10 minutes. There is a narrow passageway at one point for about 10 seconds and walking on an uneven gravel area for 2 minutes. For those with accessibility needs, please let us know any access needs and accommodations you require. We have alternate routes, accesiblity guides and CHAIRS! Support Staff is welcome free of charge.
NOTE: At the end of the play, it is a 5 minute walk back to cars parked at the library.
Small audiences meet at Newmarket Library where they check in and recieve an iPad that they will share with one other guest or use on their own. Tour guides will then lead them down a path that introduces them to Callimachus and his world of love, guilt and sacrifice. Ending at a secret location, audiences discover who the real martyr truly is.
The Story:
Callimachus is obsessed with Drusiana and attempts to seduce her. Drusiana successfully prays for death in order to escape Callimachus's advances. Still madly in love, Callimachus goes to her tomb where he too meets his death, until Saint John resurrects them both for a second chance to make amends.
'Now you are in my power, now I can pour out my love on you.' ~Callimachus
This dark yet comedic play will be presented as an interactive live performance/video experience.
A unique combination of medieval and digital creativity told through live performance/pre-recorded theatre, providing participants with an opportunity to experience a very classical work in a thoroughly modern way.
Callimachus was written in the 10th century by the first known female playwright Roswitha.
DINNER-THEATRE PARTNER
Cachet Supper Club is our Restaurant Partner. Why not add a delicious pre or post meal to your theatre experience?
cachetsupperclub.ca
500 Water St, Newmarket, ON L3Y 1M5
Resevations: opentable.ca
This venue is very close to the play's ending and a five minute walk to the play's beginning.
TALKBACK sessions with the cast and creative team will follow the SUNDAY shows at Cachet Supper Club.
COVID
We will be following all provincial guidelines and protocols for these performances. We encourage social distancing, and option to wear a mask. The performance is 50% outside.
NO LATECOMERS
TICKETS ONLY AVAILABLE IN ADVANCE
WASHROOMS are available at both indoor venues.
PARKING is available at the Newmarket Public Library.
EARLY BIRD $20 TICKETS END APRIL 11TH.
Not-so-early-bird TICKETS END MAY 1ST.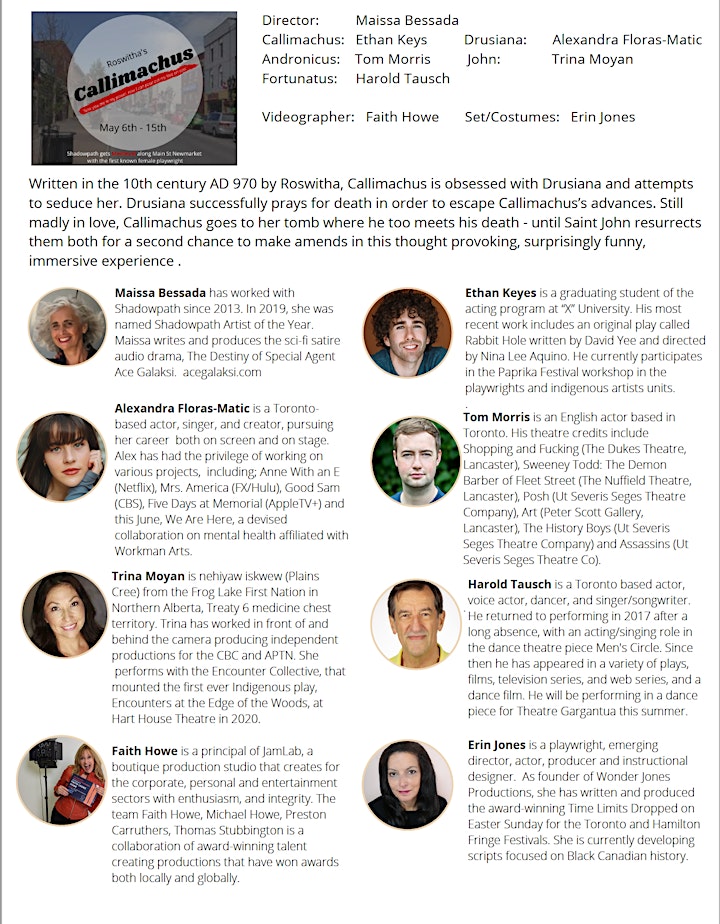 Location
Newmarket Public Library
438 Park Avenue
Newmarket, ON L3Y 1W1
Canada
Refund policy
Contact the organizer to request a refund.
Eventbrite's fee is nonrefundable.