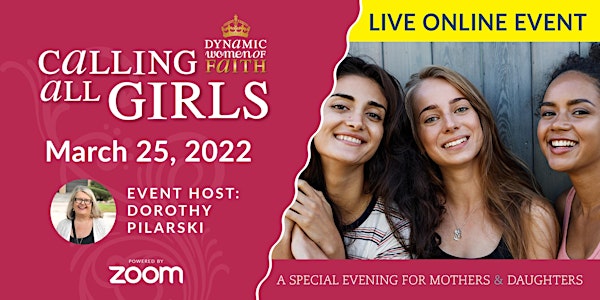 Calling All Girls 2022
A Special Evening for Catholic Mothers and Daughters. For Female High School & University Students and their mothers.
About this event
Visit our website: Dynamic Women of Faith
AN EVENING OF SHORT HIGH POWERED TALKS • MEET NEW PEOPLE • LEARN THE TRUTHTALK ABOUT IT • DISCOVER WHO YOU ARE • AVOID MISTAKES • IMPROVE YOUR RELATIONSHIPS
Speakers:
Noelle Mering | Contending with the Distortions of Becoming a Woman
Gerry Whelan | The Loss of My Daughter, My Shining Star
Isabella Bruno | Girls, Stress, the Pandemic: How to Deal with the Anxiety?
Fr Denis Lemieux | Staying Human in the Digital Age
Dorothy Pilarski | Your host and moderator, Founder of Dynamic Women of Faith
--
The Calling All Girls Evening will be delivered online exclusively to our registrants on the same day and at the same time.
***PLEASE KNOW OUR MINISTRY DEPENDS on YOUR HELP.
Can make a DONATION to support our work? If yes -- please do so HERE
If you interested in becoming a sponsor of this conference, please contact us at tickets@dynamicwomenfaith.com
--