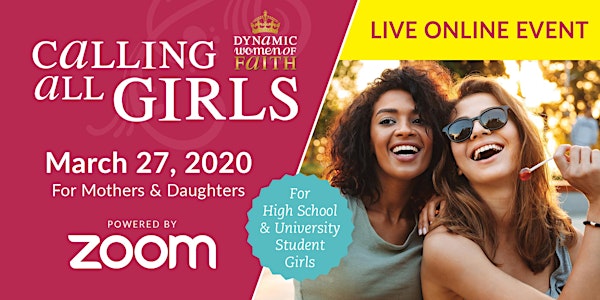 Calling All Girls: a Special Evening for Mothers and Daughters 2020
Annual Evening for Mothers and Daughters. For High School & University Student Girls.
By Dynamic Women Association of Ontario
When and where
Date and time
Fri, Mar 27, 2020 4:00 PM - 7:00 PM PDT
About this event
The event will be delivered online exclusively to our registrants on the same day and at the same time.
In response to the COVID-19 pandemic, our live event has changed platforms.
All participants will get clear instruction on how to join us before the event. The app is simple to use!


Dr. Sandra Sagrati, Stephanie Benedetti, Dorothy Pilarski, Sandra Wojcik -- All Confirmed for Virtual Conference
SPEAKERS
Sandra Wojcik | What is my purpose? How our gifts lead us to discover the call that God placed in our hearts.
Sandra is someone you will usually find holding a cup of coffee and either dancing around or singing a song. Three years ago, she discerned a very big career changing decision where she went from Massage Therapy to Ministry and is currently finishing her Masters of Theological Studies through St. Augustine's Seminary. She is also a Retreat Speaker/Musician for Hopestone Catholic Formation, where she works with an incredible team to lead retreats for students from Grade 5-12. Sandra recently got married this past summer and has been truly embracing every aspect of living out this beautiful vocation with her husband. In her talk she will be focusing on one of the most common questions she has come across in working with youth: What is my purpose? Through her story, she shares how God slowly answered that question in her own life by helping her discover who she was first, what it meant to be a Daughter of God, and why we are all given a particular set of gifts and personality traits.
Stephanie Benedetti | How to Work with the Holy Spirit to Energize Your Vision
Stephanie is passionate about coffee, her nieces and JESUS! She currently serves as the Associate Director of Young Adult Ministry for the Archdiocese of Toronto. In her motivational talk Stephanie will help you to think about developing a mindset that frees you from worry, helping you enter into a state of trust in God's plan for your life. Learn to be confident in embracing the mystery and contradictions of life confident that God's got your back!
Dr. Sandra Sagrati | Get Uncomfortable! How to Have Less Anxiety and Stress!
Dr. Sandra Sagrati is a clinical psychologist who works with children, adolescents and adults in her private practice in Etobicoke, Toronto West Psychology. She obtained her doctoral degree at the University of Toronto, and completed internships at the Ambulatory Day Treatment program for Eating Disorders at Toronto General Hospital as well as the Mood Disorders program, and the Anxiety Treatment and Research Centre at St. Joseph's Healthcare. For over a decade she worked at the Centre for Addiction and Mental Health in the Cognitive Behavior Therapy Unit as well as the Neurochemical Imaging in Mood Disorders (PET Centre) program. She has co-authored numerous publications in the area of depression, anxiety, and exercise, and completed her dissertation thesis on the effect of physical activity on the prevention of depression. Most recently she has authored the book, Pivot-Self-Talk: Asking All the Wrong Questions, as well as an accompanying app: Pivot: Self-Talk that helps individuals challenge their thinking style to obtain more positive mental health. She resides in Toronto with her husband and four children. In this presentation, Get Uncomfortable, Dr. Sagrati will speak about how we desire less anxiety and stress, more confidence and achievement, more peace and purpose, while our effort and focus are counterproductive. Learn to pivot your thinking to improve your mental and physical health one simple question at a time.
Dorothy Pilarski | The Power of Prayer
Dorothy is the founder of both the Calling ALL Girls event and the Dynamic Women of Faith conference. Learn how to pray, when to pray and several ways to pray. Visit www.dorothypilarski.com to learn more about Dorothy.
For more information visit www.dynamicwomenfaith.com. Speakers may change if one becomes unavailable. Registrations can be transferred but not refunded.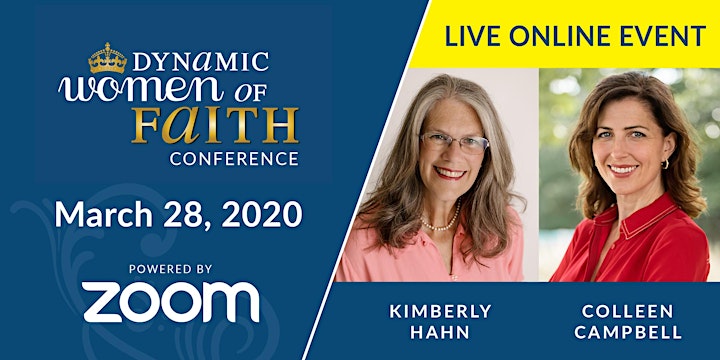 Please check out our Saturday Dynamic Women of Faith LIVE Online Conference for Catholic women which has a great line up of speakers!
---