Event Information
Location
University of Alberta
General Services Building, Room 315
116 St NW
Edmonton, AB
Canada
Description
Bringing data analytics and computational thinking into everyday curriculum

The ability to process information in an analytical way will be in high demand as students enter the digitally skilled future. Because of this, teachers are now feeling the pressure to incorporate more coding and data analytics into their curricula.
Imagine being able to use a university-level analytics platform — capable of big data processing, data visualizations, math equations, and text formatting — in your grade 5-12 class. And imagine this tool being cost-free, easy to use, and only needing a web browser to operate.
This is a real opportunity for simple, accessible, and interactive learning — we call it Callysto.
In this half-day workshop, teachers will be introduced to the Callysto platform, and will get the chance to explore modules that have been developed for existing course curricula (covering, among other subjects, history, science, and literature).
Our team will show you how to incorporate these modules into your classroom, and will also work with you to customize specific modules to fit your needs.

There is no cost to attend, and teachers will be reimbursed for their substitute fees and parking.
Presenters
Byron Chu, Data Scientist and Callysto Project Manager, Cybera
Byron graduated from the University of Calgary with a PhD in Biochemistry. His studies focused on intrinsic properties of proteins, and today he applies the same scientific principles to data and network-enabled projects. As a burgeoning data scientist, Byron is interested in the intersection of data analysis and storytelling, and how numbers can inform on every level of society: from networks and the environment, to the health issues we could potentially face.

David Hay, Teacher and Educational Consultant, Elk Island Public Schools
David has twenty years of teaching experience in the Alberta school systems. With Bachelor degrees in Biology, Chemistry and Science Education, he also holds a Masters in Educational Psychology with a focus on Educational Technology.
Schedule:*

1pm - 1:30 pm - Introduction to Callysto and Jupyter

1:30 pm - 2:30 pm - Hands-On Exercises

2:30 pm - 2:45 pm - Break (15 minutes)

2:45 pm - 3:00 pm - Callysto and Computational Thinking

3:00 pm - 4:00 pm - More Demonstrations and Hands-on Exercises
* Refreshments will be provided


Location Map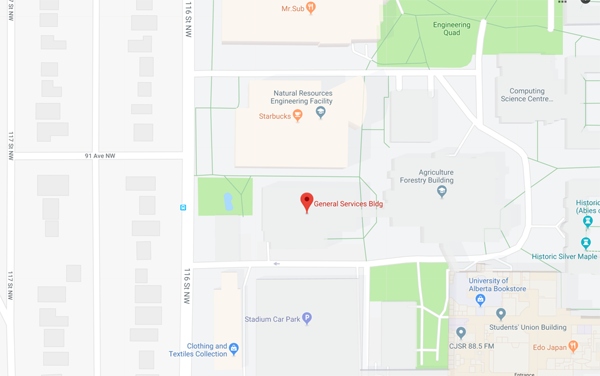 Date and Time
Location
University of Alberta
General Services Building, Room 315
116 St NW
Edmonton, AB
Canada