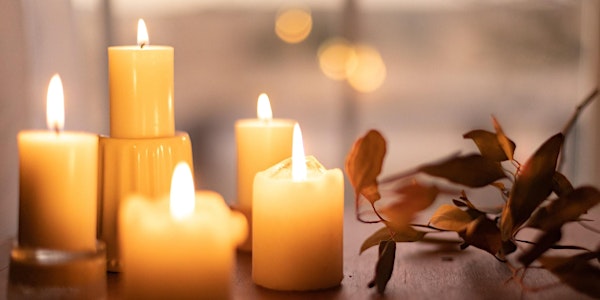 Calm Mind, Happy Life Virtual Meditation Thursdays! A Community Practice
Relax, recharge and renew body, mind and soul! Experience the purity and tranquility that meditation brings. Weekly Thursdays, 7-9 pm EST.
About this event
Calm Mind, Happy Life Virtual Meditation Thursdays! A Community Practice
During this weekly community practice, we experience the purity and tranquility that meditation brings, make progress on the path of self-cultivation, and receive wisdom and blessings.
The primary practice methods of Bodhi Meditation are included, such as The Meditation of Greater Illumination, The Meditation of Purity and The Meditation of Bone Melting. These are guided meditations. No prior meditation experience required.
Compassionate teachings as well as Energy Healing from Grandmaster JinBodhi are both featured weekly.
Within a short period of time, this community practice enables participants to:
calm the mind
replenish their energy
relieve stress and fatigue
increase physical strength
awaken wisdom
obtain health and happiness, and
embark on an auspicious life journey.
Below, we feature a few of our participants and how they have benefited.
The Bodhi Meditation Toronto community warmly invites you to give us a try. Join our online community meditation every Thursday night, from 7:00 pm - 9:00 pm Eastern!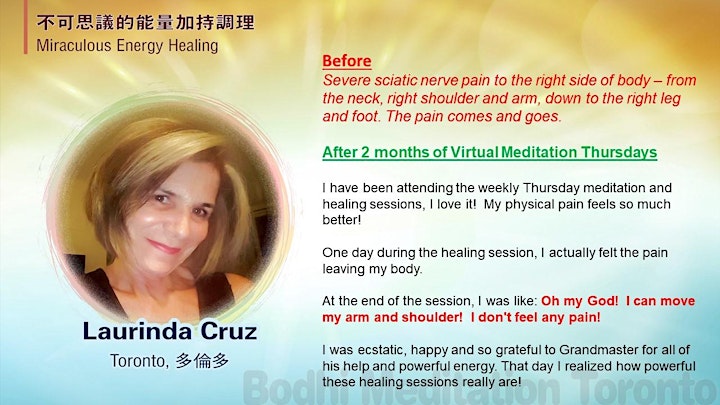 Organizer of Calm Mind, Happy Life Virtual Meditation Thursdays! A Community Practice

Who We Are
A global charitable organization, Bodhi Meditation was founded in 1991 by Master JinBodhi after eighteen years of studying and practicing in the Qinghai-Tibetan Plateau of China. Master JinBodhi was born a sick child and suffered from severe illnesses throughout his childhood. He regained good health through practicing meditation, thus he made a vow of compassion to help everyone achieve good health.
We welcome everyone regardless of their race, nationality, language, cultural background, belief, age or gender. The methods are simple, easy to learn, yet proven to be extremely effective in improving health. It is particularly suited to today's fast-paced lifestyle. Due to its effectiveness, Bodhi Meditation has spread to more than thirty centres in the world helping millions of people restore health and regain happiness.
What We Do
With a key focus on the attainment of health and happiness for all, our mission is to impart practical, effective meditation techniques as a way of strengthening the physical body, while inspiring awakening of the spirit. Bodhi Meditation practices derive from ancient Eastern philosophy. As such, it fosters the development of better perspectives on life, bringing about inner peace and harmony for its practitioners. Our organization is largely run by volunteers who have benefited from the practice.