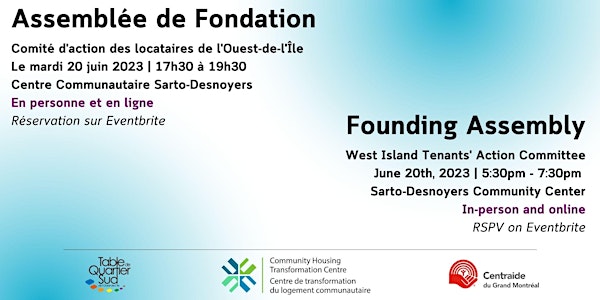 CALODI-WITAC | Assemblée de fondation - Founding Assembly
Le CALODI organise son assemblée de fondation! The WITAC will be holding its founding assembly!
By Table de Quartier Sud de l'Ouest-de-L'Île (TQSOI)
Date and time
Tue, Jun 20, 2023 5:30 PM - 7:30 PM EDT
Location
Centre Sarto Desnoyers 1335 Lakeshore Drive Dorval, QC H9S 2E5 Canada
About this event
Le Comité d'action des locataires de l'Ouest-de-l'Île tiendra enfin son Assemblée de fondation. Les locataires et les organisations communautaires de l'Ouest-de-l'Île sont invités! Lors de cet événement, nous élirons le conseil d'administration et adopterons les règlements généraux de l'organisation. Des apéritifs seront offerts à nos membres pour célébrer notre nouvelle organisation.
Si vous avez d'autres questions, n'hésitez pas à nous en faire part en nous contactant par courriel (locataires@tqsoi.org). Nous sommes très enthousiastes à l'idée de vous faire participer à notre aventure !
---
The West Island Tenants' Action Committee will finally be holding its Founding Assembly. West Island tenants and community organizers are invited! During this event, we will elect the board of directors, and adopt the bylaws of the organization. Appetizers will be offered to our members to celebrate our new organization.
If you have any further questions, we would love to hear from you. You can contact us through our email address (locataires@tqsoi.org). We are very excited to bring you all to be part of our journey !
About the organizer
À propos du TQSOI
La Table de Quartier Sud l'Ouest-de-l'Île (TQSOI) est un organisme sans but lucratif qui réunit tous les citoyens et acteurs provenant du milieu communautaire, institutionnel, privé et politique dans le but d'améliorer la qualité de vie, surtout pour les gens plus vulnérables, et favoriser le développement social du sud de l'Ouest-de-l'Île.

About the TQSOI
The Table de Quartier Sud de l'Ouest-de-l'Île (TQSOI) is a non-profit organization that unites all citizens and individuals involved in local community organizations, institutions, businesses and political life, to improve the quality of life and to favour social development in the south of the West Island.