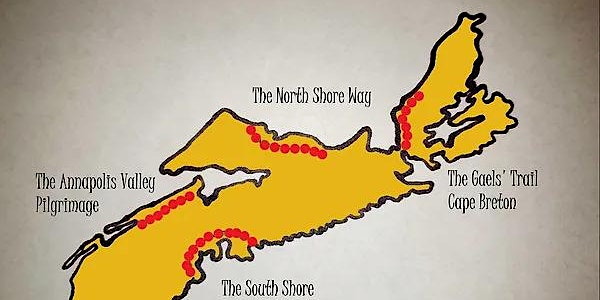 Camino Nova Scotia - North Shore Storytelling Camino - August 21-25, 2023
Come walk and delight in stories along Nova Scotia's North Shore!
By Atlantic School of Theology
Date and time
Mon, Aug 21, 2023 7:00 PM - Fri, Aug 25, 2023 11:00 AM ADT
Refund Policy
Contact the organizer to request a refund.
Eventbrite's fee is nonrefundable.
About this event
3 days 16 hours

Mobile eTicket
Date and Time: Monday August 21 to Friday August 25, 2023 (three days of walking in total)
Location: Begins in Pictou, NS and ends in Tatamagouche NS (note that we will NOT be walking this entire distance, but rather sections of it)
Launch point: Pictou United Church, 47 James Street, Pictou, NS, B0K 1H0
Cost: $800 + $100 non-refundable deposit + optional shuttle (price TBA)
Refund Policy: 100% until July 21; 50% between July 22 and July 31; no refund after August 1. Deposit ($100) is nonrefundable.
About this Event:
Story is how we speak of ourselves when we have the opportunity for long conversation. Story is how we speak of the land when it holds particular importance for ourselves, our family, our community, or our ancestors. On this unique Camino, we'll listen to the stories of those who have called the North Shore 'home' – and we'll share the stories we bring, as well as those we make along the trail. The area through which we'll trek remains strongly Gaelic in flavour today, but is layered with the living histories of the Mi'kmaw whose land this is, as well as the Acadians, Germans, Shambhala Buddhists, Americans, and others who have found refuge and possibility here. From Pictou's picturesque harbour to the Northumberland waters of River John and Tatamagouche, come listen to the spiritual stories of the land, and add your own!
Start time: 7:00 pm Monday August 21 (optional shuttle leaves Halifax 3:30 pm)
End time: 11 am Friday August 25 (optional shuttle to return to Halifax arriving approx. 2:30 pm)
Details:
Our three days of walking will take us through diverse country: the harbour walk of Pictou, the forested trail between Scotsburn and River John, and the Northumberland Strait coastline around River John and Tatamagouche. We will follow the "rail to trail" hard surface walking trailways of the "Great Trail" (the Trans-Canada Trail), with some local pathways, beaches, and backroads in the River John area.
The trail will take us alongside fishing wharfs, churches, scenic villages, and beautiful shorelines. Our plans are to overnight the first night in Pictou (the home of the reconstructed Hector, the first ship to bring Scottish immigrants directly from the Highlands to Nova Scotia), and then to walk west and north. We hope to spend time with master storyteller and River John resident Sheree Fitch, as well as others, ending our North Shore Camino in the town of Tatamagouche, whose name is derived from a Mi'kmaw word meaning "meeting of the waters."
The spiritual aspect of this North Shore Camino is evident both in the stories we will hear, and in those we can add about how intentional Camino walking and community-building contributes to a world of greater understanding and peace.
As with all Camino NS pilgrimages, our Camino is both local, and guided. The routine involves some participant help with meals (clean up etc), as well as check-ins and a brief daily, optional, time of spiritual reflection. Camino NS staff will be on hand to facilitate the walking, the pilgrim accommodation, and luggage transportation. We plan interactions with local storytellers – but be prepared to add to your own story as a pilgrim!
Leadership Team: The Rev Nicole Uzans, Past Director of Camino Nova Scotia. Staff TBD
To Register:
First – reserve your place by signing up here on Eventbrite, with your non-refundable deposit of $100.
Second – Camino Nova Scotia will send a FULL registration packet to you by email. This packet will give you more complete info and help us to learn any concerns you have about diet, sleeping mats, transportation, etc.
Third – Return the forms in the registration packet by email. Your Nova Scotian Camino awaits!
Accommodation and Transportation: Accommodation for at least some overnights will be on mats in sleeping bags, in community or church halls along the route. Participants must provide their own sleeping bag and pillow (which will be transported by vehicle along the route) for the stays in community or church halls. Those not bringing an air mattress or sleeping mat must request one beforehand.
The walk begins and ends at locations along Nova Scotia's North Shore. For those who are not driving directly to Pictou for the opening evening, but require shuttle transport to and from the Atlantic School of Theology, Halifax, a shuttle can be booked at an additional cost.
Health precautions: Because COVID-19 continues to be a concern, we require participants to be vaccinated against COVID.
To learn more about the trail, go to:
https://tctrail.ca/explore-the-map/?Name_Trail=Jitney%20Walking%20Trail (for the beginning section; for more go to the map and zoom out).
To learn more about Camino Nova Scotia, go to: www.CaminoNovaScotia.ca
Brought to you by: Camino Nova Scotia
Need more info or have a question? No problem. Simply email Camino Nova Scotia to find out more: camino@astheology.ns.ca
Contact person: matt.anderson@astheology.ns.ca
About the organizer
Leaders come in many forms. Atlantic School of Theology helps lifelong learners, post-graduate students, those seeking church vocations, and many others reach their educational goals. AST balances practical skill development with the pursuit of scholarly wisdom.
AST is located in the heart of the south end of Halifax, Nova Scotia. Our peaceful grounds are highly conducive to study. The beautiful waterfront of the Northwest Arm is in our back yard, with the woodland Point Pleasant Park nearby.
We are shaped by a tradition of cooperation and respect, going back over 200 years, to create an open, inclusive, and welcoming environment.
In registering for a continuing education program, you authorize Atlantic School of Theology, or its representative, to photograph and record your image and voice on still photographs, audio, or video media. You assign Atlantic School of Theology (AST) any and all rights, including copyright, on this material for promotional purposes.
 This material can be used, in whole or in part, for the non-commercial promotion of Atlantic School of Theology programs, events, or activities including social media such as Facebook, Twitter, the AST website and YouTube channel.
AST is a registered charity and welcomes donations in any amount (please click here).