Description
Camp Hoo-Ha is like girl guides but for grown women. You eat, drink, mingle and do a simple craft, and then a camp counsellor takes the stage to teach the group about fun/interesting topics which earn you a badge. Examples of topics are self-defence, sex-ed, mixology, women's health, wine-ed and much more.
Every event includes:
Dinner

One drink

An engaging speaker

A simple craft

A badge
For Vancouver's first Camp Hoo-Ha event, we will be tackling SELF-DEFENCE!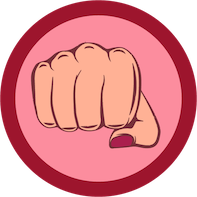 This camp will be lead by our Camp Counsellors from Empowerment Inc: Lynn MacDonald is a 20 year member of the Calgary Police Service who has been teaching Self- Defence for over 10 years and her partner, Shelley Hayes, has 16 years of experience in leadership and coaching. They make a dynamic duo for teaching self-defence and they are always a hit with the Hoo-Ha campers.
In this Self-Defence camp you will learn:
Tips on how to protect and defend yourself
How to use the power of your voice
The power of kick-ass mantras
Three moves to get out of a scary movie style attack
PLEASE NOTE: 1 drink is included but if you want more, bring cash!