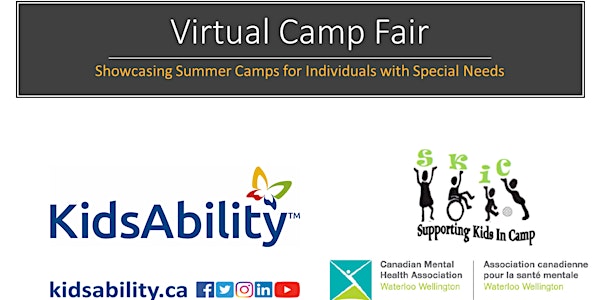 Camp opportunities for children with special needs (Guelph/Wellington)
A camp fair showcasing day camp opportunities for children ages 4-12 in Guelph-Wellington
Date and time
Wed, Feb 15, 2023 4:00 PM - 6:00 PM PST
About this event
Registration has closed for this event, but you are still welcome to join! Here is the link to join the live event at 7pm on Wednesday, February 15th, 2023:
OR copy and past this URL into your browser:
https://teams.microsoft.com/l/meetup-join/19%3ameeting_MDVkMjEwNjMtZTkwOC00ODk3LWFmNzYtNmIyNzA3MTk1ZjBh%40thread.v2/0?context=%7b%22Tid%22%3a%22e8b5d86f-23b0-4067-8922-2922044547cd%22%2c%22Oid%22%3a%22a2089ed1-60f1-4399-a133-4d7deaf0875a%22%7d
Information will be shared about the following camps and programs:
1. City of Guelph Day camps
2. Rainbow Day Camp
3. Kerry's Place Autism Services
4. SKIC (Supporting Kids In Camp)
4. Camp Sunrise - Sunrise Therapeutic Riding & Learning Centre
5. Local camps options with an inclusive philosophy
Following the formal presentations, participants will be invited to participate in a live Q & A with the camp directors and program leaders. Participants are invited to ask questions during the formal presentations using the chat.
How do I participate in a Teams Webinar?
Don't have the Teams app? You can still join a Teams meeting.
In your email invite, select Click here to join the meeting. You can also use a dial-in number and conference ID from the email to call in.
You have three choices:
Download the Windows app: Download the Teams desktop app.
Continue on this browser: Join a Teams meeting on the web.
Open your Teams app: If you already have the Teams app, go right to your meeting.
Select Join now.
Depending on meeting settings, you'll get in right away, or go to a lobby where someone in the meeting will admit you.
Type your name.
Choose your audio and video settings.
I have my children with me, can I still attend?
Yes! We know this challenging time presents challenges with childcare options. When you log in to the session, your video and audio will be turned off. You will be able to see the presenters and the presentation and hear them speak but no one will hear or see you.
Will I be able to ask questions during the session?
Yes! Teams has both a chat function and Q&A function that can be used to ask questions during the workshop. The facilitators will then read the questions and answer them throughout the presentation and there will also be a live question-and-answer session at the end.
I am a service provider and would like to attend?
Absolutely! The information presented is very relevant for service providers who help families to navigate recreation and camp opportunities. We welcome you to join us!
I am no longer able to attend this training. Who do I contact?
No need to contact us, but if you would like to review a recording of the workshop, it will be posted at www.kidsability.ca/camp-info
How can I contact the organizer with any questions not answered here?
Contact Sheryl Dedman at sdedman@kidsability.ca or 1.888.372.2259 x 3260
I require an accommodation, who can I contact?
Contact Sheryl Dedman at sdedman@kidsability.ca or 1.888.372.2259 x 3260