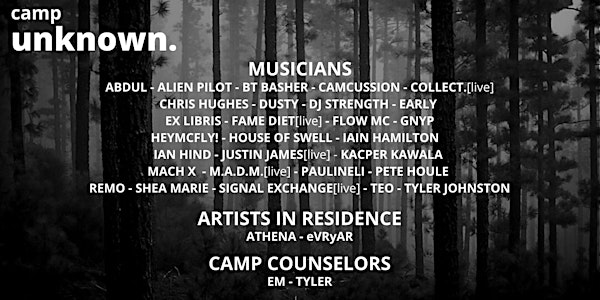 camp unknown. (2022)
Half Music Festival. Half Adult Summercamp. unknown. reveal. release.
When and where
Location
1948 Seacliff Dr 1948 Seacliff Drive Kingsville, ON N9Y 2N1 Canada
Refund Policy
Contact the organizer to request a refund.
Eventbrite's fee is nonrefundable.
About this event
WE'RE BACK AT IT AGAIN!!!
Half Music Festival.
Half Adult Summer Camp.
Imagine a summer camp for adults. A vacation from the daily grind, where you can transport yourself back to the most carefree days of your childhood. There are games & sports. Swimming. Lifelong friends. Great artists. Endless opportunity to explore, good vibes all around, and not a worry in the world.
Justin James has decided it is time to extend his successful project entiled "unknown." and will produce a crazy and mysterious camping experience showcasing the fine independent flair of his record label, "refused." and curate music acoss his broad spectrum of musical taste. This new independent event will be fueled by the best music and a sense of mystery and adventure that gave our small but mighty community a place to call home. We hope that "camp unknown." shines through as a great boutique event, where wild ones and weirdos, music heads and party animals come to create their own destiny.
unknown.
reveal. release
~
Multiple potable water taps
Minutes from Seacliffe Beach
Minutes from grocery stores / convenience stores / beer store / LCBO.
Food and Drinking Water: Bring your own, bring a cooking stove if you need to.
Rules:
-LEAVE NO TRACE
-No individual camp fires allowed, we will have a big communal fire.
-No GLASS (everything can be put in a plastic container).
-This is a private camp out event with awesome friends, tons of activities, and great beats.
~ OUR RESPONSIBLY ~
We have a strict code of conduct and reserve the right to refuse anyone at any time. This event are Safe Dance Space. We take this very seriously. We encourage everyone to not hesitate to bring to our attention anything you think that we should be made aware of such as harassment, violation of personal space, solicitation or use of controlled substances, over intoxicated behaviour, or anything else that may pose a risk or discomfort to you or others. You may use the safe word PINEAPPLE, ask any of our CAMP COUNCILLORS for a PINEAPPLE and we will direct you to a safe quiet space.
General Rules and Regulations
-All vehicles are to stop at the gates to check in with staff for their camping permit before proceeding to their campsite.
-All Terrain Vehicles, Golf Carts etc. are prohibited in the campground.
-Campsites must be kept clean and tidy at all times. Deposit all garbage in proper receptacles located within the campground.
-Rowdy behavior, excessive noise, or swearing will not be tolerated.
-camp unknown. assumes no responsibility whatsoever for personal injury or loss/damage to vehicles or personal property of any kind.
reveal. release.
unknown.