Sales Have Ended
Registrations are closed
Hello Dear Camper :) Online registration is now closed. At door payment is available at $275 for full registration or $25 per meeting registration. Cash only will be accepted at the door as there is no internet at this location. We look forward to seeing you there! The International Events Team
Sales Have Ended
Registrations are closed
Hello Dear Camper :) Online registration is now closed. At door payment is available at $275 for full registration or $25 per meeting registration. Cash only will be accepted at the door as there is no internet at this location. We look forward to seeing you there! The International Events Team
Description
Think of the splendour of The Canadian Rockies – beautiful right? Then there is beauty that cannot be imagined, and that's the awakening deep within us. If awakening is your love, then you will find it at the annual camping trip with John de Ruiter, at the David Thompson Resort.

This is a gorgeous way to introduce yourself to John and his teachings, with two meetings with John per day, interspersed with open mics. You may find yourself at a meal with John and Leigh Ann discussing meaning in life with friends. Otherwise roam the campground and meet hundreds of other people who are living for the same essence. Relax among the trees or go for a swim in the glacier lake down the mountain trail. There will be bonfires, parties, dancing, even a movie night!
Set-up Day - Wednesday August 23
This is a set-up day only. Please do not arrive before 3:00pm unless you are part of the set-up team. There are no meetings or open mics scheduled for this day, it is an impromptu day.
Meeting & Open Mic Details
Meetings are held in the Belldome from Thursday August 24 until Tuesday August 29 daily from11.00am - 1.00pm & 7.00 - 9.00pm; doors open 20 min prior to each meeting. The first meeting is on Thursday, August 24.
Meetings with John consist of dialogue and silent connection
Open mics provide an intimate, more personal setting for dialogue with John; pick an open mic to attend when registering - all open mics will be held at 'Wims Cabin'
All meetings and open mics may be viewed on screen on Campground B
For more info about John & meetings visit the About page
Entrance & Seating for Meetings
We are bringing the number system to Nordegg this year!
With full registration each person can attend all meetings in the Belldome! Per meeting registration implies you may attend any meetings paid for. Simply choose a number group when registering and entry into the meetings will be as per the number group chosen ie; Meeting 1, number group 1 will be let in first followed by groups 2, 3, 4... and so on. Meeting 2, number group 2 will be let in first followed by 3, 4, 5... and so on. There are 12 meetings, therefore 12 number groups. Please choose wisely as we ask that no changes be made after August 14.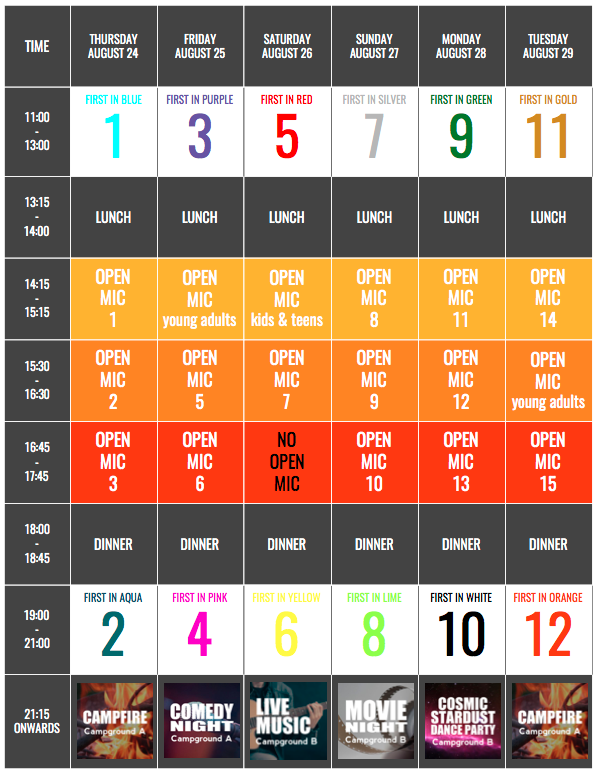 Unpadded folding chairs are being provided this year so we can all fit into the Belledome. Please do not bring your own chairs to the Belldome, but feel free to bring a cushion or back support.
Wristbands can be picked up on Campground A:
Wednesday 4 - 5pm
Thursday & Friday at 9.30 - 10.30am & 5.30 - 6.30pm
Saturday - Tuesday 10.30 - 11am & 6.30 - 7pm
View Registration Tutorial if this is your first time registering
Cost
Full registration special rate $225 CAD until July 30
Full registration regular rate $250 CAD until August 14
At door full registration rate is $275 CAD (cash only please!)
Per meeting special rate is $18.75 CAD until July 30
Per meeting regular rate is $19 CAD until August 14
Per meeting at door rate is $25 CAD (cash only please!)

Adding meetings or changing your registration is available until August 14 by logging into your Eventbrite account
Accommodation Details
David Thompson Resort will begin calling our community to confirm and pay for the last year's reserved accommodations starting May 1, and expect to be finished by the end of May; DTR appreciates your patience!
For those of you that have not reserved accommodations, you are welcome to email or call David Thompson anytime at info@davidthompsonresort.com /1.888.810.2103 to be placed on their waiting list.
Check-in time is 3 pm for all accommodation types.
Check-out time is 11 am for the motel, cabins & RV rentals and 12 noon for campsites. Campground gates close at 11 pm and any campers arriving after that time will be required to wait in the parking lot until morning to register. Please respect their policies, thank you.
DTR is only responsible for accommodation bookings. Kindly discern all questions and direct any logistical questions to eventsupport@johnderuiter.com.

Only one tent per campsite is permitted and will be strictly enforced. Their infrastructure (toilets, water, wood and food supply) cannot handle an overflow of visitors.

DTR requires that all children and teens age 15 and under be supervised at all times.
Camping Trip Details
Download or print Nordegg General Guidelines
Family Camping Checklist
Download or print the DTR Campground Map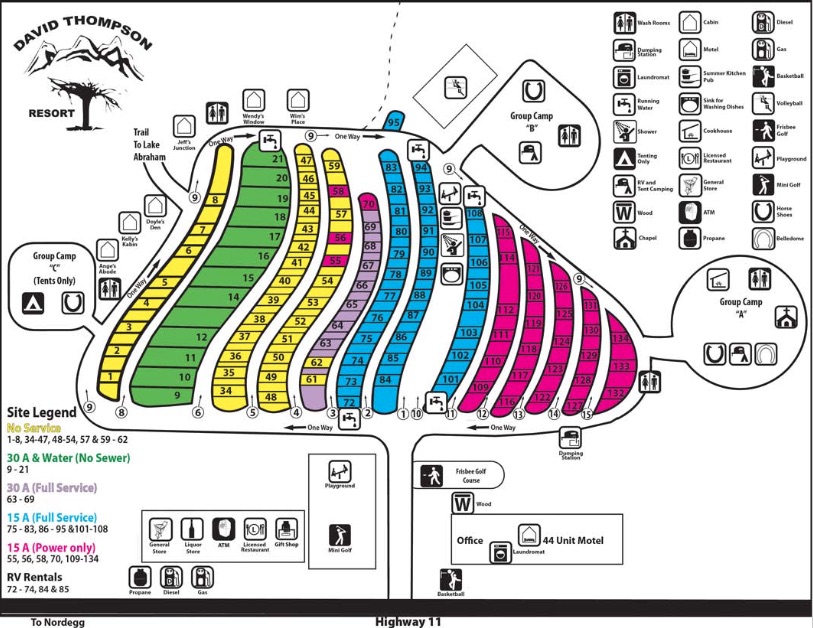 Policies
Event Policies
Terms & Conditions
Privacy Policy
Support
For help with eventbrite please contact us here
For questions on specific event details please contact us by clicking "Contact" below