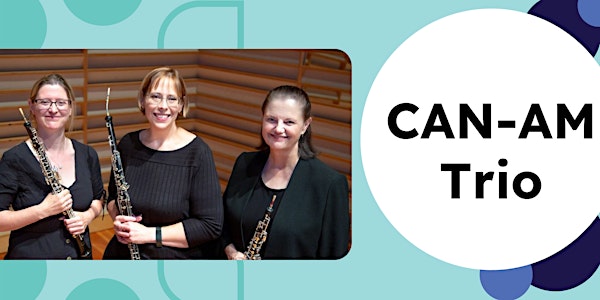 CAN-AM Trio Performance
The CAN-AM Trio looks forward to giving a performance that include both historical and contemporary works at the Central Library.
When and where
Location
St. Catharines Public Library - Central 54 Church Street St. Catharines, ON L2R 7K2 Canada
About this event
The CAN-AM Trio was created in 2019 by oboists Geralyn Giovannetti of Utah and Sarah Hamilton from The State University of New York at Fredonia, and Anna Mattix, the English hornist with the Buffalo Philharmonic. Both Geralyn and Sarah are Canadian citizens and Anna is American, hence the name.
As good friends and colleagues they share a long musical association and friendship and perform together to promote the rich musical tradition of trios written for Two Oboes and English horn. This type of chamber music ensemble has been in existence since the 1800's when Beethoven famously wrote two notable works for this combination. Since then, composers have delighted in the rich orchestral sound of this trio.
CAN-AM Trio looks forward to giving performances that include both historical and contemporary works especially those written more recently by Canadian, American, and British composers.
Location: Mills Room, Central Library Branch
-------------------------
In-person programming is contingent on public health regulations and is subject to change. Staff will notify registered participants of any changes, when applicable.