Description
The CAN-BIND Program invites you to its second annual Family and Friends Day. This years' theme is self-expression and wellness, and in addition to providing study updates, will feature music performances and display artwork created by persons with lived or living experience of Depression.
Event to Include:
Research updates on the CAN-BIND program including the Wellness and Music Therapy studies, research discussions, musical performances, artwork created by persons with lived experience, raffle prizes and more...
Who Should Attend:
Individuals who participate(d) in any CAN-BIND research, their families and/or friends, partners, advocates, researchers, clinicians in mental health and anyone (public or otherwise) who would like to know more about the CAN-BIND program

Confirmed guest speakers include:

Dr. Sidney Kennedy

Dr. Tom Mikkelson

Dr. Michael Thaut

Ms. Ann Marie MacDonald

Dr. Shane McInerney

Dr. Franca Placenza

Dr. Thenille Braun Janzen
There will be an opportunity for:

CAN-BIND study research updates

Study participant appreciation

A panel Q & A Session

Participant Feedback

Display and viewing of artwork sumbitted by participants, their friends and family

A tour of the Zebrafish Centre for Advanced Drug Discovery facility by Dr. Brock Schuman

Entering into a raffle to win gifts including T-shirts designed by graphic desginer, Brandon Uway in collaboration with th CAN-BIND program
A light complimentary breakfast and lunch will be provided.



Interested in sharing your artistic/ musical abilities? Please email us at canbind.program@gmail.com
FAQs
What time do the doors open?
Doors will open at 8am and the event will run from 08:30am - 13:30pm. Volunteers will be present to direct you the exhibition space on the 2nd floor or follow the signage in the building. Please try to arrive a few minutes early in order to register, pick up your information package and partake in a light breakfast.
How do I get to the event?
Li Ka Shing Knowledge Institute 209 Victoria Street, is located just north of St. Michael's Hospital in the downtown Toronto core at the north east corner of Victoria St and Shuter Street. The event will take place in the Main Exhibition Space. Please view map.
Public Transit
If travelling by public transit, the closest TTC stations are either Dundas or Queen St Station.
Driving & Parking
For those driving, St. Michael's parking information & pricing can be found here: http://www.stmichaelshospital.com/parking.php
Other parking options in the area are marked by the P symbol in the image below: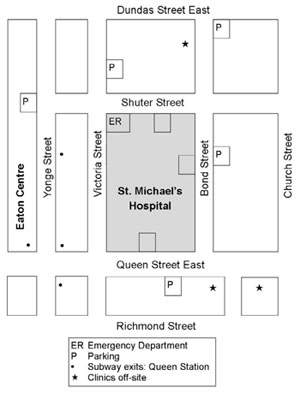 Accessibility
The Li Ka Shing building is accessible from street level and from the main hospital via the bridge from the third floor Cardinal Carter wing. Wheel Trans pick up and drop-off locations: The Queen Street entrance at the south end of the hospital.