Can She Bake a Cherry Pie? Harvest Meals & Foodscapes of Plenty in Rural On...
Description
2:30 to 3:30 p.m. TALK BY PROFESSOR CATHARINE WILSON
Room 117, MacKinnon Bldg., 87 Trent Lane, University of Guelph
Professor Catharine Wilson of the Department of History, University of Guelph, speaks about barn raisings, threshing days and quilting bees in 19th- and 20th-century Ontario, when plentiful and sumptuous meals were provided by the host family as a payback for the assistance neighbours freely gave. The offering up of food not only attracted people to the job and kept them energized, but it was also a performance.
Cookbooks and reminiscences demonstrate the changing nature of these meals. The timing, preparations, settings, menus, service, and complaints found in diaries (such as those in the Rural Diary Archive) help us to understand the role of harvest meals in rural hospitality – and the importance of meeting but not exceeding neighbourhood standards.
WE HAVE NOW EXCEEDED MAXIMUM SPACE FOR THE ARCHIVES INTRO AND DISPLAY BELOW BUT THERE IS STILL LOTS OF ROOM FOR THE TALK ABOVE, AT 2:30.
Preceded by:
1:30 to 2:15 p.m. INTRODUCTION TO THE CULINARY ARTS COLLECTION & DISPLAY OF HISTORIC COOKBOOKS
Lower Level, McLaughlin Library, 50 Stone Rd. E., University of Guelph
The talk will be preceded by an introduction to the Culinary Collections of the University of Guelph Archival & Special Collections. Melissa McAfee, Special Collections Librarian, and Kathryn Harvey, Head of Archival & Special Collections, have kindly offered to tell us about the holdings and to create a display of historic cookbooks especially for our visit.

Catharine Wilson holds the Redelmeier Professorship in Rural History. Her current research is on "Bee-ing Neighbours," the study of reciprocal work, and was funded by a Social Science and Humanities Research Grant. She is also the coordinator of the Rural History Roundtable, a speakers' series now in its 15th year, and the founder and director of the Rural Diary Archive. This digital repository showcases over 140 diarists and honours the daily lives of rural people. Visitors can search and help transcribe 19th-century diaries.
Admission is free. However, to help the CHC offset room rental costs, a suggested donation of $10 / $5 students will be gratefully received.
Image above: Meal after raising barn, Sylvester Main Collection, Archival & Special Collections, University of Guelph, XA1MSA230, Image no 93b
Parking in university lots is free on weekends; see the green highlighted areas below. Please meet first in the lower level of the McLaughlin Library (blue); after the visit to the Archival & Special Collections, we will walk to the MacKinnon Building (yellow) for the talk.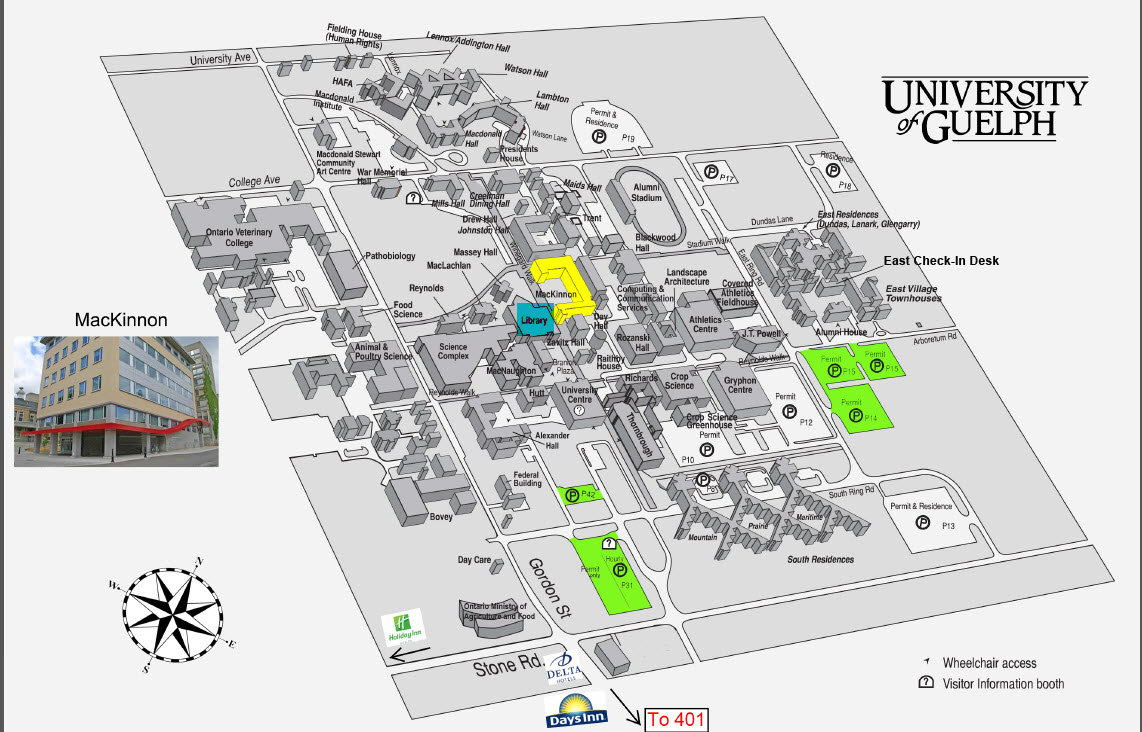 Date and Time
Location
MacKinnon Building, 87 Trent Lane
Room 117
University of Guelph
Guelph, Ontario
Canada