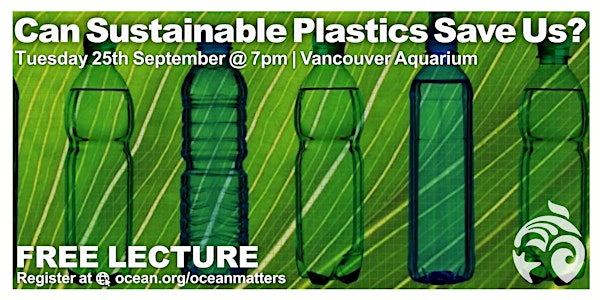 Can Sustainable Plastic Save Us?
When and where
Location
Vancouver Aquarium 845 Avison Way Vancouver, BC V6G 3E2 Canada
Description
The first man-made plastics were invented in 1839, and in the 179 years since, hundreds of different plastics have been created and are being used across all industries from agriculture to aviation. Plastics are one of the most important material class on the planet, but they also the most environmentally destructive one too.
New kinds of 'bio-plastic' have been developed to tackle some of the problems with plastics but the products we buy often aren't what they are cracked up to be.
In this talk Dr. Love-Ese Chile explores the major types of sustainable plastics available. She will outline their strengths and weaknesses and will highlight what we can do as consumers and tax-payers to help create a circular economy for these new materials.
About the speaker
Ese recently completed her doctoral studies at the university of British Columbia where she examined a solution to environmentally persistent plastics from the perspective of both a chemist and an engineer. Ese now works with people, government and industry on projects which explore questions that will inform and empower us to build sustainable and innovative communities.