About this Event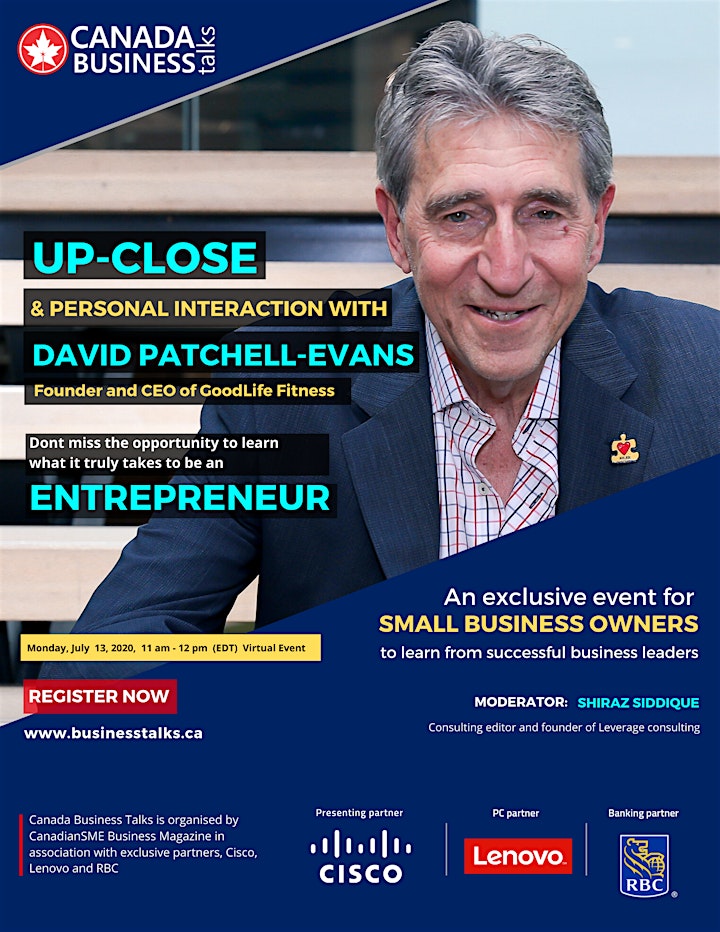 Up-close & personal interaction with David Patchell-Evans.
Don't miss the opportunity to learn what it truly takes to be an ENTREPRENEUR in our inaugural Canada Business Talks series with David Patchell-Evans.
Canada Business Talks will be hosting Canadian business leaders to discuss the most important topics for small business success.
Small Business Finance
Digital Transformation
Cloud & Technology For SMEs
Women Entrepreneurship
Global Business Mindset
Small Business Leadership
Take your business to the next level by connecting with Canadian Business Leaders through the Canada Business Talks series, in association with Cisco, Lenovo and RBC.
Canada Business Talks is for the people who keep the vision to alter the business world, and individuals handling small business firms have an impetus. We are talking about business apprentices, small business owners, entrepreneurs, and people looking for proficient guidance and recommendations for running an efficient syndicate.
-----------------------------------------------------------------------------------------------------
An exclusive event for small business owners.
In this session, you will learn how to adapt to the new normal, making your business successful, business leadership tips, and much more.
-----------------------------------------------------------------------------------------------------
Moderator: Shiraz Siddique, consulting editor and founder of Leverage consulting.
While simultaneously delivering record-setting sales results in various Sales Leadership roles, Shiraz Siddique has been actively training, consulting and delivering keynotes for more than 20 years in both the Academic and Corporate world. His passionate and innovative delivery style allows him to navigate past the traditional process of learning that people will enjoy. Through easy to apply techniques and strategies, Shiraz helps companies to generate the type of results they felt they were always capable of.
------------------------------------------------------------------------------------------------------
*Please note: This event is strictly for small business owners only
*After registration, we will send you an email with a link to join the event before the 13th of July.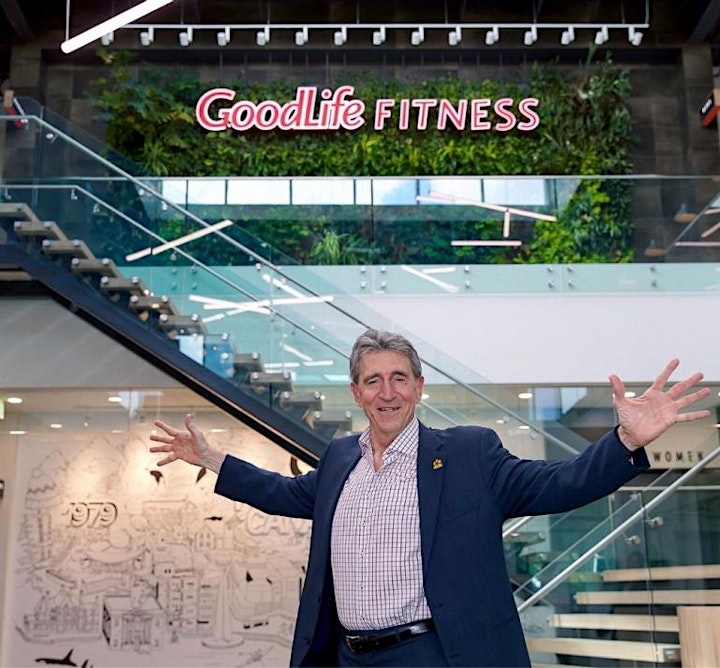 David 'Patch' Patchell-Evans is the founder and CEO of GoodLife Fitness, Canada's largest fitness club chain, fourth largest in the world and largest owned by a single owner. Patch opened his first gym in London, Ontario in 1979 and has grown the company to over 400 GoodLife Fitness, Fit4Less and ÉconoFitness clubs across Canada. With 1.5 million members and over 11,000 Associates, GoodLife is helping to transform the health and wellness of 1 in 25 Canadians every day.
A global advocate for health and fitness, Patch is currently the President of canfitpro, Canada's largest fitness education and certification body, and the past Chair of the IHRSA Board of Directors, the world's leading health and fitness association representing 78 countries.
A two-time best-selling author, award-winning entrepreneur, five-time Canadian Rowing Champion and a notable philanthropist, Patch and GoodLife have received over 25 National and International awards including the International Iconic Brand Award, Canada's Best Managed Companies, Canada's Best Gym, and Canada's Most Admired CEO. In 2012, Patch received an Honorary Doctorate of Laws Degree from Western University. Patch was also the recipient of the 2019 Lifetime Achievement Award at the Ontario Business Achievement Awards for being a proven achiever and strong contributor to Ontario's economy; a pioneer in his industry who has had a positive impact on the province. In 2020, he is being inducted into the Canadian Business Hall of Fame.
Patch and GoodLife have given over $40 million to various non-profits across Canada. In 2007, he was awarded the Medal of Honour by the Canadian Medical Association for his passionate support of autism research and the founding of The Kilee Patchell-Evens Autism Research Group. In 1998, Patch created the GoodLife Kids Foundation to help provide physical activity opportunities to children with special needs. Since the annual Spin4Kids event was created in 2012, over $6.1 million has been raised, positively impacting the lives of 255,000 kids through physical activity opportunities. GoodLife Fitness also pledged $5 million to the Peter Munk Cardiac Care Centre at University Health Network, establishing the first-of-its-kind private/public collaboration to help the estimated 1.3 million Canadians suffering from heart disease.
Please note: This is a virtual event