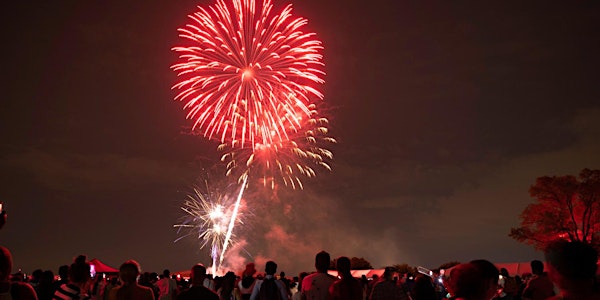 Canada Day at Downsview Park | Fête du Canada au Parc Downsview
Our Canada Day event will be making a return this year! | Notre événement de la fête du Canada est de retour cette année!
Date and time
Sat, Jul 1, 2023 4:00 PM - 10:30 PM EDT
Location
Downsview Park 70 Canuck Avenue behind the building next to the greenhouse Toronto, ON M3K 2C5 Canada
About this event
6 hours 30 minutes

Mobile eTicket
We can't wait for you to join us on Canada Day, July 1ST for our annual festival! See you at the Festival Terrace!
We'll have live entertainment, games for kids, inflatables, vendors and so much more! So, bring your friends, family and neighbours out for an amazing afternoon and evening.
Did we mention that there'll be fireworks and food trucks too?
FAQ
Will any roads be closed?
Access to John Drury Dr from Keele St will be closed.
Where can I park my car?
We encourage you to reduce your environmental footprint by walking, biking or taking public transit. 😊 However, we understand that driving may be a more accessible option.
If you do come by car, please park at the upper parking lot. To get there, turn onto Tuscan Gate from Sheppard Ave W, and then turn right into the grassed parking area/upper parking lot.
Is this event accessible? Will there be accessible parking?
Yes! People of all abilities will be able to enjoy Canada Day at the Park. Limited accessible parking will be available at the upper parking lot.
Will there be washrooms and water fountains?
Yes. Washrooms, handwashing stations and water fountains will be available. Please bring a reusable bottle as you can refill bottle at our water trailer.
By clicking "Register", I acknowledge that I have reviewed and accept the Parc Downsview Park Inc. ("PDP") Terms and Conditions and the PDP Privacy Notice and I agree to PDP's use of my personal information in accordance with same and in relation to this program.
- - -
Nous sommes impatients de vous recevoir le 1er juillet pour notre festival annuel de la fête du Canada ! C'est un rendez-vous sur la terrasse des festivals !
Au programme, nous aurons un spectacle, des jeux pour les enfants, des jeux gonflables, des marchands et bien plus encore. Amenez famille, amis et voisins pour un après-midi et une soirée inoubliables !
Vous a-t-on dit qu'il y aura aussi un feu d'artifice et des camions de cuisine ?
Foire aux questions
La circulation sera-t-elle entravée ?
L'accès à la promenade John Drury depuis la rue Keele sera fermé.
Où puis-je garer ma voiture ?
Nous vous invitons à réduire votre empreinte écologique en vous rendant à à pied, à vélo ou en empruntant les transports en commun. 😊 Nous comprenons cependant que pour certains d'entre vous la voiture soit l'option la plus accessible.
Si vous venez en auto, veuillez vous garer dans le stationnement supérieur. Pour vous y rendre, prenez l'avenue Sheppard Ouest. Tournez ensuite sur la rue Tuscan Gate, puis tournez à droite sur l'aire de stationnement gazonnée ou dans le stationnement supérieur.
Cet événement est-il accessible ? Y aura-t-il un stationnement accessible ?
Oui! Toutes les personnes, quelles que soient leurs capacités physiques, pourront célébrer la fête du Canada au Parc. Un stationnement au nombre de places limité sera accessible dans l'espace de stationnement supérieur.
Y aura-t-il des toilettes et des fontaines d'eau ?
Oui. Des toilettes, des stations de lavage des mains et des fontaines d'eau seront disponibles. Veuillez apporter une bouteille réutilisable pour la remplir à notre remorque à eau.
En cliquant sur « Register », je reconnais avoir lu et accepté les conditions et l'avis sur la protection des renseignements personnels de Parc Downsview Park Inc. (« PDP »), et consens à ce que PDP utilise mes renseignements personnels conformément à ces conditions et dans le cadre de ce programme.
About the organizer
DOWNSVIEW PARK IS A DYNAMIC URBAN PARK THAT COMBINES ACTIVE AND PASSIVE ELEMENTS, REFLECTING THE DIVERSE NATURE OF THE SURROUNDING DOWNSVIEW COMMUNITY.
Visitors from all over the Greater Toronto Area are attracted to the Park's various on-site uses, ranging from education, sports, nature, recreation and cultural events. Often compared to the great parks of the world, Downsview has not had the same hundreds of years to cultivate. Originating from humble beginnings, borne of a community rich with heritage and proud of its storied military history, Downsview Park today is still in its infancy.

As with many other dynamic parks around the world, Downsview will never be finished or stop growing. Over the course of decades and beyond, Downsview Park will continue to constantly develop, change and mature to reflect the surrounding community with each generation. Downsview Park aspires to be the cornerstone of its community as it continues to transform and blossom. Watch us grow with you!
_______
LE PARC DOWNSVIEW EST UN PARC URBAIN DYNAMIQUE QUI INCLUT DES ÉLÉMENTS ACTIFS ET PASSIFS, QUI REFLÈTE LA NATURE DIVERSE DE LA COLLECTIVITÉ VOISINE DE DOWNSVIEW.

Les possibilités très variées qu'offre le Parc Downsview attirent des gens de toute la région métropolitaine de Toronto. Ces possibilités englobent l'éducation, les sports, la nature, les loisirs et les événements culturels. Souvent comparé aux grands parcs du monde, Downsview n'a pas bénéficié de centaines d'années pour s'établir. D'origine humble, le parc a été créé dans une collectivité dotée d'un riche patrimoine et fière d'une histoire militaire remarquable. Aujourd'hui, Downsview en est encore à ses débuts.

Comme de nombreux autres parcs dynamiques du monde entier, Downsview ne sera jamais achevé et ne cessera jamais de croître. Durant les prochaines décennies et au-delà, le Parc Downsview continuera constamment de se développer, de changer et d'arriver à maturité, afin de refléter chaque génération de la collectivité environnante. Le Parc Downsview souhaite devenir la pierre angulaire de la collectivité, à mesure qu'il continuera de se transformer et de s'épanouir. Nous allons grandir avec vous!lossom. Watch us grow with you!